"Iron" or soft power. What do Ukrainians choose: a strong leader or democratic institutions? The Timofiy Brick's column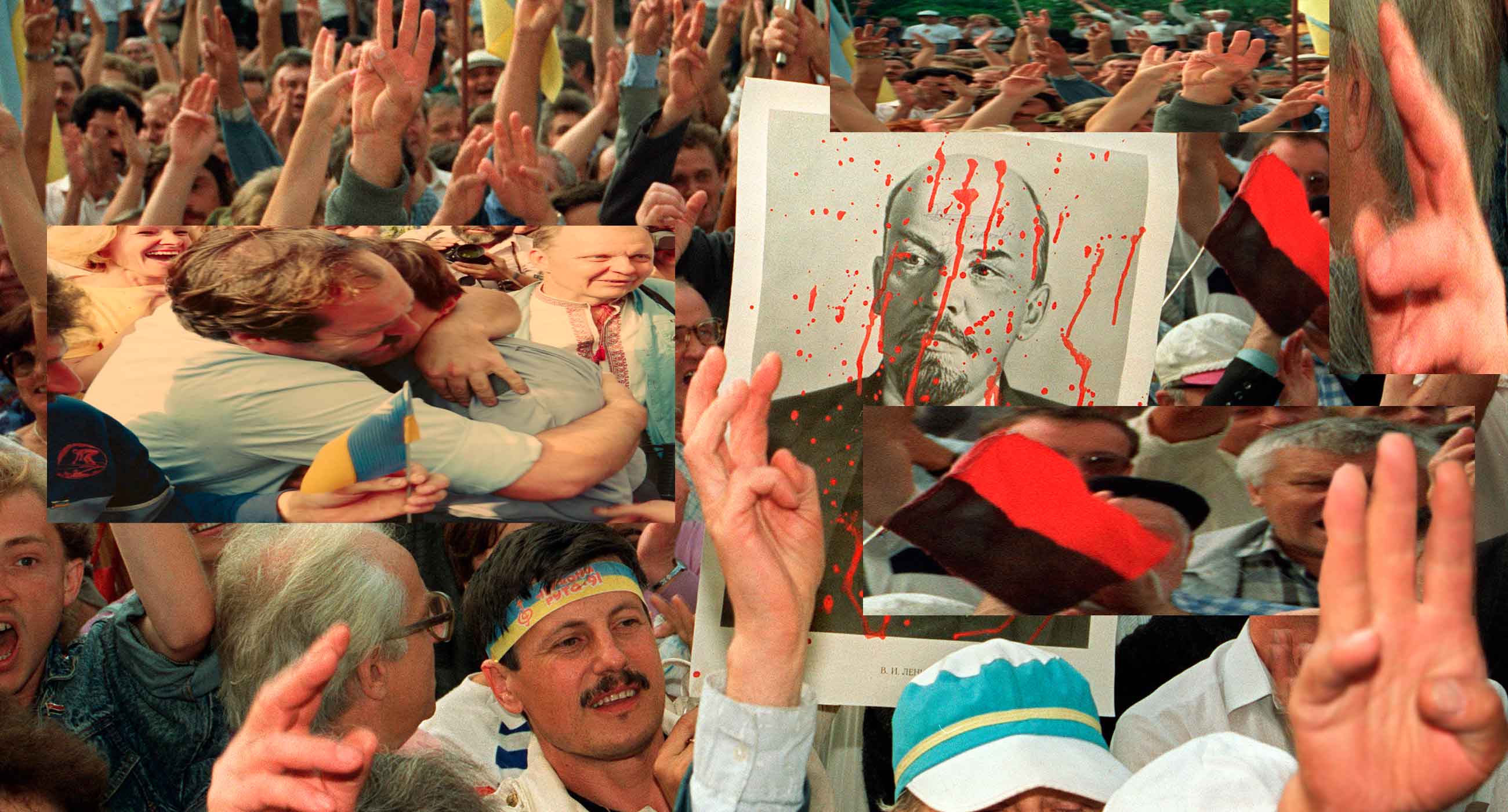 Collage: Kateryna Kruglyk / Zaborona
Recently, the Kyiv International Institute of Sociology (KIIS) published a report in which a significant part of Ukrainians prefer a strong leader who would centralize power. During the war and through the political formation of president Zelensky, some residents of Ukraine decided that they needed a leader but not a solid political system in general. But before that, Ukrainians talked about the European development path and expressed their desire to establish a transparent democracy. Isn't there a contradiction here? Zaborona asked the rector of the Kyiv School of Economics, sociologist and author of the Brikonomics telegram channel Tymofiy Brik to tell us what sociological polls say about the political vision of Ukrainians, how it has changed since the declaration of independence, and why the respondents contradict themselves.
---
"Free people of independent Ukraine" — this is how Volodymyr Zelenskyy addressed his compatriots in a speech on the 31st anniversary of the country's independence. Will, independence, and freedom are often used to describe Ukrainians and Ukraine. But why do Ukrainians say that one strong leader should run the country? A month before Zelenskyy's greeting, in July 2022, 58% of KIIS respondents agreed that a strong leader is more important for Ukraine than a democratic system. And even earlier, in 2018, 59% of the National Academy of Sciences of Ukraine Institute of Sociology's respondents agreed that "only the policy of a strong hand can preserve order in society".
Do Ukrainians not value democracy? Doubtfully. An international group of researchers led by Olga Onukh found that, according to the majority of Ukrainians, democracy is better than other forms of government. Moreover, the percentage of such Ukrainians has grown significantly recently (from 41% in 2019 and 48% in 2021 to 57% in February and 71% in July 2022). Interestingly, this study's local executor was the same KIIS.
Collage: Kateryna Kruglyk / Zaborona
During the thirty years of independence, sociologists have accumulated a lot of data about Ukrainians. It would seem that we should understand our society well. But unfortunately, a significant number of surveys led to the opposite: we got lost in vast volumes of information and separate pieces of data. Regardless of how you imagine Ukrainians — supporters of democracy or of a "strong hand" — if you wish, you can find data that will confirm your point of view.
Actually, sociology is not just individual observations, ratings, or surveys. Objective sociology begins when we compare different data and understand their context. What does sociology say about Ukrainians and their attitude to democracy?
To Be on the Same Page
First of all, it should be noted that for many years, Ukrainians could not formulate a clear attitude towards the political system in the country. Yevgeny Holovakha, one of the most productive Ukrainian sociologists, noticed that Ukrainians often give contradictory survey answers. According to the data of the National Academy of Sciences of Ukraine Institute of Sociology, the majority of respondents say that they either do not understand, or undecided, or do not share any political trend. From the 1990s to now, 55% to 60% of respondents regularly give such answers.
Moreover, Ukrainians can support development at the same time entrepreneurship, and a return to the plan economy. To explain this observation, Golovakha proposed the concept of "dual institutions." In this case, "institute" means a set of social norms and role models, and Ukrainians simultaneously share different social standards and role models. In Western societies, sociologists often speak of polarization within countriesL there is a watershed between different groups that hold opposing political views. In Ukraine, we are talking about how the same group of people can have opposite views.
Collage: Kateryna Kruglyk / Zaborona
Growth Points
Why do Ukrainians give such opposite and contradictory answers? On the one hand, Ukraine is a young state that emerged after the collapse of the Soviet Union. Ukrainians have not yet had time to formulate a clear vision of their political system, and not all social norms and rules have been established. For example, according to the data of the National Academy of Sciences of Ukraine Institute of Sociology, after The Orange Revolution, the political views of Ukrainians began to correlate with their sense of well-being. But before The Orange Revolution, such correlations did not exist for years. After a significant political event, new correlations appeared in the answers of Ukrainians that were not there before. Other shifts in the worldview of Ukrainians took place after 2013. If in the early 1990s and 2000s, only half of the respondents considered themselves primarily citizens of Ukraine, and after 2013 this percentage increased to 60%. Moreover, as the data from KIIS showed, the increase from 64% to 84% occurred between February and July 2022.
To put it simply, Ukrainians have changed over the years. Significant shocks occur after critical political events, such as The Orange Revolution, Euromaidan, and the war with Russia. Accordingly, the attitude of Ukrainians to politics and their place in it is still being formed and may change depending on the processes taking place.
Idea and Execution
It is also essential to understand that democracy is not just an abstract idea. These are specific processes that can be evaluated. According to the National Academy of Sciences of Ukraine Institute of Sociology, in 2018, 79% of Ukrainians said that the country's democratic development is personally important to them. At the same time, only 18% were satisfied with how democracy is developing in Ukraine. People can appreciate something as an idea but not be happy with the progress. Also, people may not feel the benefits of democracy. A recent study by the "Democratic Initiatives" Foundation and the Razumkov Center showed that the idea of ​​democracy is most valued by wealthy Ukrainians (72%) and the least by the abysmal (53%).
How Not to Roll Back?
Data from the National Academy of Sciences of Ukraine shows that in 2004, only 15% of respondents trusted the president, and suddenly in 2005, this indicator exploded to 49%. In 2006, it fell to 30%, and in 2008 it rolled back to 23%. Other studies show that in the early 1990s, Ukrainians had a favorable attitude to the topic of privatization. Still, over time, due to the economic shock and problems in the social sphere, they changed their opinion and began to treat privatization negatively.
Collage: Kateryna Kruglyk / Zaborona
Are there any positive examples in the history of Ukraine when trust in the authorities and assessment of the economy did not roll back? Thus, many studies show that belief in local authorities and satisfaction with local services have grown significantly and have not receded. The decentralization reform and the development of local self-government must make local politics more accessible and understandable. Citizens gained more access to resources and incentives to participate in community life. Also, they began to trust the local government more and feel responsible for it. It isn't easy to imagine that even ten years ago, Ukrainians would go to rallies to defend the mayors, as happened in occupied Melitopol or Energodar.
Stand Up for Institutions
During large-scale hostilities and evacuations, the state must be centralized. Problems with logistics, supply, and security are fundamental. Unfortunately, Ukraine now faces a severe dilemma. We have to centralize power to survive. But we cannot wholly roll back decentralization because it was thanks to it that Ukrainians became more motivated and responsible citizens. And this, in turn, made them more resistant to external threats.
Democracy is not just beautiful slogans but the daily participation of millions of Ukrainians in the life of their communities and in solving collective problems. And also a sense of responsibility for the result. We've seen in research that slogans have a temporary effect: trust and satisfaction increase but then slide back. Contrary to slogans, real institutional change has a long-term sustainable impact. That is why, if we want to preserve democracy, we must stand up for the institutions that give citizens the motivation and resources to be engaged and responsible — particularly for the defense of decentralization.
Collage: Kateryna Kruglyk/Zaborona