Ukraine will not surrender! Putin, are you ready for capitulation? 26 February, the third day of Russia-Ukraine war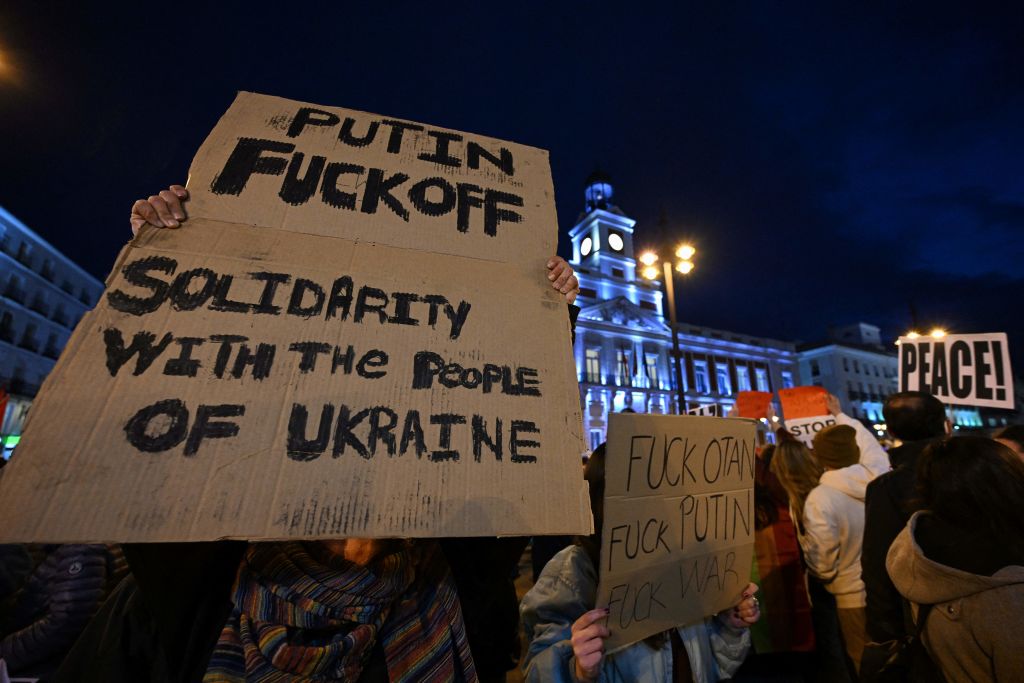 Фото: GABRIEL BOUYS/AFP via Getty Images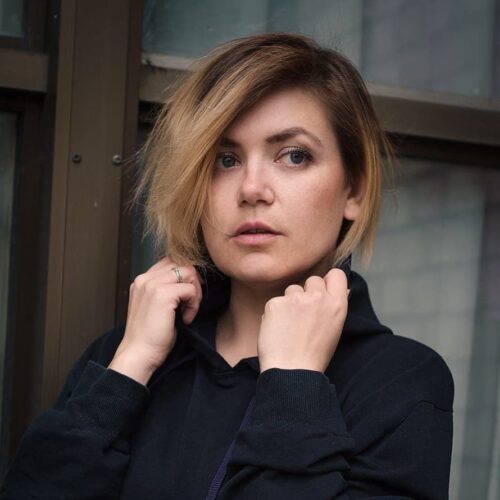 Russian plans to capture Ukraine have been broken due to powerful resistance
Each day Ukraine's Western partners are toughening their sanctions against Russia. They support Ukraine with money and with weapons.
We don't panic. We are aware of the nearest bomb shelters. We are helping our army.
26 February 2022 is the third day of the full-scale Russia-Ukraine war. The foe is being rebuffed by the world's strongest army. Russian attempts to capture regional centers have failed. The Ukrainian population is fighting against Russian saboteurs as well as local collaborationists. Western allies are helping us with diplomacy and resolute actions.
Don't hesitate to subscribe to our telegram channel Zaborona! All the latest news are there, along with interesting discussions.
Zaborona is holding the media line. Thus, we are ready to inform you on the latest events of the third day of resistance.
Latest news
19:08 The Supreme Council of Ukraine
Church bells' chiming can be an alarm signal. Once you hear the ringing, you should immediately take shelter.
18:45 Video from the Russian Ministry of Defense channel
We have no inclination to post a video from a channel of Russian propaganda.
17:40 Command of the Ukrainian Air Force
Over the Black Sea a Russian Su-30 SM fighter aircraft was hit by an anti-aircraft missile unit of the Air Force of the Armed Forces of Ukraine.
WELCOME TO HELL!!
17:28 Rally in Belgium
Listen attentively! Allegedly, Chechens in exile (not "kadyrovtsy") will join war against the horde.
16:00 Latest news from the Ministry of Foreign Affairs
Technical preparations for the decree on banning Russia from SWIFT. Germany ceased to hesitate on the decision.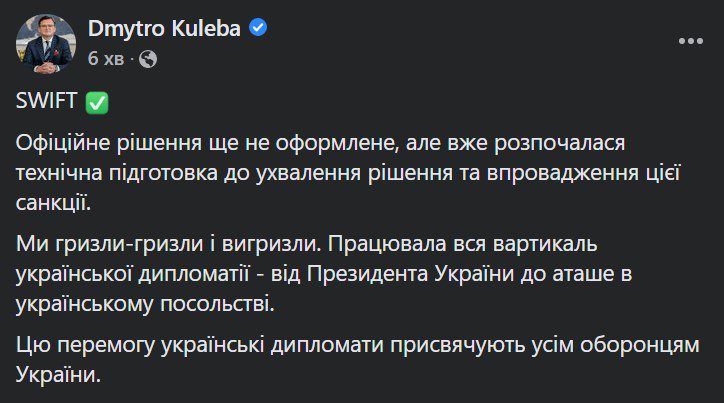 15:37 Volodymyr Zelenskyi
Turkey closed the Bosporus for Russian warships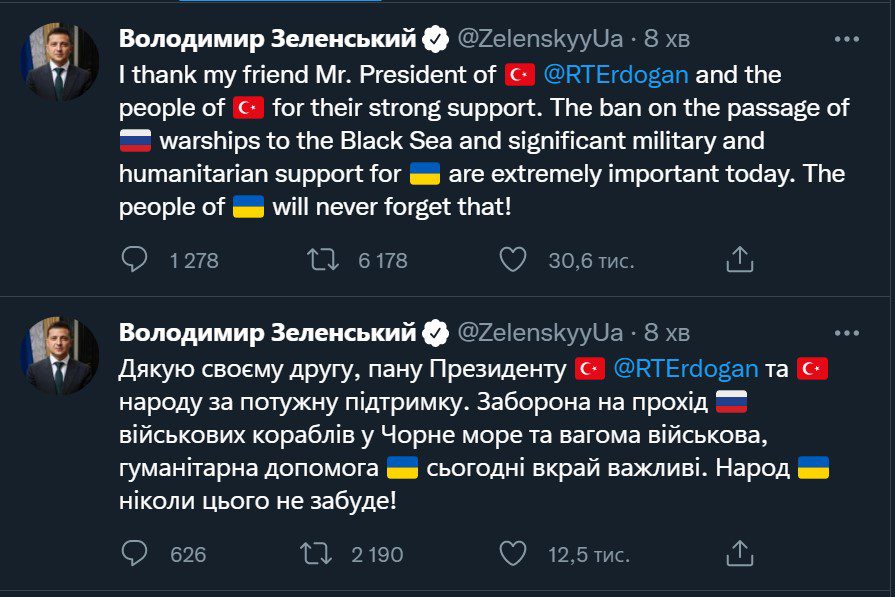 15.15 Ukrainian Railways
Additional trains:
26.02 17:00 Kyiv – Chop 21:00 Dnipro – Lviv 22:30 Kyiv – Lviv
27.02 04:00 Kyiv – Kharkiv 13:30 Kharkiv – western direction
Priority is given to the elderly, children and females.
14.50 State Agency for Automobile Roads
It is not a fake. This is an official message from the agency. Remove road signs to disorient Russian troops.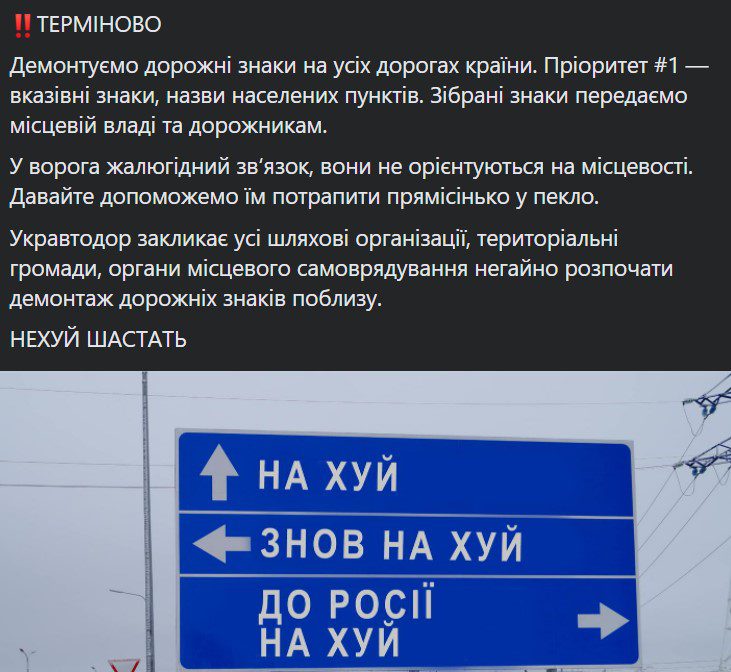 14:00 Ministry of Digital Transformation
An appeal for our crypto friends:
Ethereum. Bitcoin and Tether (USDTtrc20):
BTC – 357a3So9CbsNfBBgFYACGvxxS6tMaDoa1P
ETH – 0x165CD37b4C644C2921454429E7F9358d18A45e14
USDT (trc20) – TEFccmfQ38cZS1DTZVhsxKVDckA8Y6VfCy
13.20 Kyiv city administration
Curfew:
From 17:00 26 February till 8:00 28 February

Driving is prohibited, unless you have a special bypass.
All civilians that will be noticed on the streets during these hours will be considered members of Russian special reconnaissance units.
Driving is prohibited, unless you have a special bypass.
Kiyvans are asked to restrict their walks to suit the curfew schedule.
13:17 Ministry of Health of Ukraine
MHU contact center 0 800 60 20 19 is accepting calls on critical requests:
from medical institutions – concerning medicine, oxygen, bulletproof vests or similar extreme needs.
from citizens – concerning the possible lack of remedies like insulin at the drugstores. Operators will write down your requests. They will send these to MHU officials for a swift resolution.
13.09 Ukrainian Railways
Evacuation trips from Kyiv to western regions of Ukraine. The trains are departing from Kyiv Railway Station to or through Lviv according to the schedule:
14:00 – additional train No 915 to Lviv
15:02 – train No 55 to Rakhiv
16:50 – train No 249 to Chernivtsi
17:00 – additional train to Uzhhorod
17:12 – train No 13 to Solotvyno
18:30 – train No 81 to Uzhgorod
19:06 – train No 43 to Ivano Frankivsk
19:48 – train No 95 to Rakhiv
20:05 – train No 29 to Uzhhorod
20:12 – train No 49 to Truskavets
20:21 – train No 57 to Vorokhta
22:22 – train No 7 to Chernivtsi
22:37 – train No 91 to Lviv
12:45 State Special Communications Service
Mobile networks are stable, though there can be interruptions due to the overload. In regions with military actions, the possible damage will be repaired after the cessation of fire.
12:10 To all
Block the approaching Russian military vehicles in all possible ways. Knock down trees, build barricades, burn tires. Occupiers should be aware that they are not welcomed.
Here is a link to Zaborona manual that will help you recognise Russian troops
11.45 Kyiv's Chief Digital Transformation Officer
Urban application Digital Kyiv (Kyiv Tsyfrovyi) allows you to receive important information on the situation in the city. For this turn on notifications in the settings menu.
There are also useful links to the map of shelters as well as the manual on how to behave when you are under fire.
The app's website is down, you can download it in Google play.
11.30 Ministry of Internal Affairs
There is information about fake calls that alleged military officials make to persons' relatives and family. The callers spread unverified data on location and condition of the latter.
If you receive such a call, ask a control question that only you know the answer to:
what kindergarten did I attend
what was my school's number
when is my mother's birthday
Zaborona adds:
what is your pet's name
ask them to sing Kharkiv's football fans' anthem
and don't forget about Ukrainian language and "palianytsia"
11.15 Matt Groening
For more than twenty years The Simpsons' creators have been both prophets and futurists of a kind. Here you go.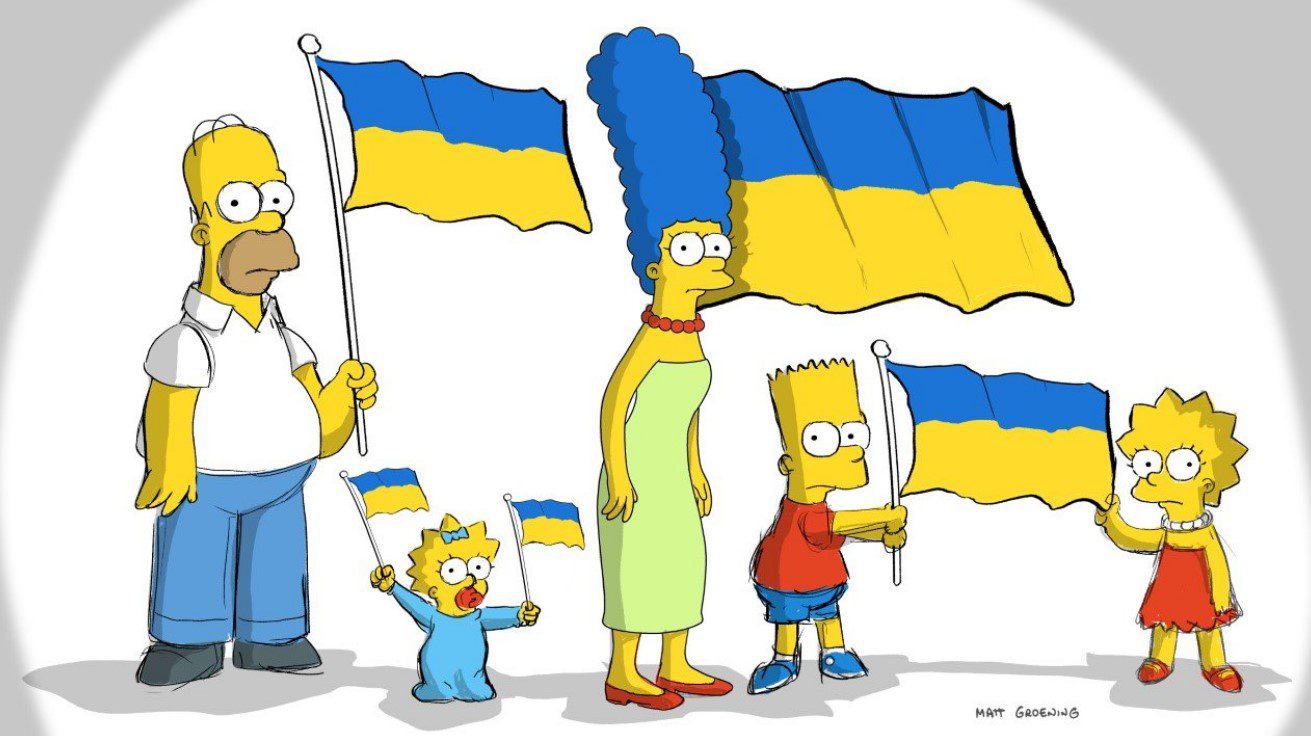 11:05 The Mayor of Lviv
At 9:00 three helicopters with Russian paratroopers landed near Brody. There were 60 occupiers. Our soldiers repelled. "Now they are retreating to the forest near Leviatyn"
Update from Security Service of Ukraine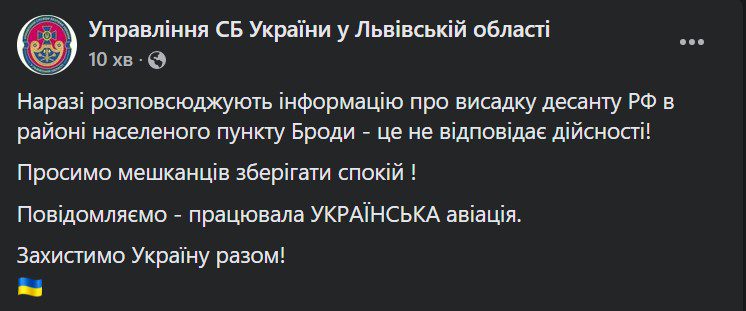 10.54 State Emergency Service of Ukraine.
At 10:18 a fire in warehouse buildings and garages in the Solomianskyi district, which started as a result of a shell hit, was localized in an area of 700 square meters. According to preliminary information, two people died. Firefighting involved twenty people and five units of the State Emergency Service of Ukraine.
10:45 State Agency for Automobile Roads in Zhytomyr region
The bridge near the village of Stoianka on the Kyiv-Chop international highwau has been blown up. Spokeswoman Svitlana Cherniakh-Kondrats`ka confirmed information about the broken bridge in Kyiv region. Now it is impossible to drive from Kyiv to Zhytomyr.
There is still a railway bridge!
10.30 Vitalii Klitchko
Metro is turned into a shelter. There will be no transportation.
10:10 National Guard
The enemy`s special reconnaissance units are constantly making attempts to land on the Kyiv's left bank.
The Ukrainian military and law enforcement units are in control of all the bridges that connect the left and right banks. They will use LETHAL FORCE on targets that will try to cross the bridges in the direction of the right bank.
All citizens are asked to stay in safe places and not to try to cross the Dnieper River towards the Right Bank!
09:48 The Minister of Health
On 25 February two boys were born in Kherson, under fire, in one of the maternity hospitals that was organized in the bomb shelter. Unfortunately there were also casualties: 198 people died at the hands of occupiers, including three children; 1115 wounded, including 33 children.