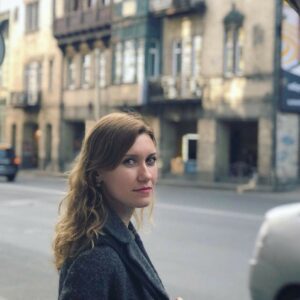 In 2017, the famous Russian neo-Nazi Denis Nikitin arrived in Ukraine. He founded the neo-Nazi clothing brand White Rex, holds mixed martial arts tournaments and presents the Azov Volunteer Regiment to European far-right movements. Right-wing radicals from all over the world took part in Nikitin's amateur tournaments. At the request of Zaborona, journalist Kateryna Kovalenko learned about Nikitin's story and tells how the Russian neo-Nazi became a key figure for far-right extremists in the world and in Ukraine.
In October 2017, the Reconquista Club opened in Kyiv. Named after the period in medieval Spanish history when Christians recaptured territory from Muslims, it was dedicated to the so-called "Ukrainian Reconquista" — a movement to "regain" Ukraine's influence over Europe. The club operated as a regular restaurant, but hand-to-hand combat took place there every Friday. In the summer of 2019, the club closed for unknown reasons. During this time, Reconquista hosted approximately 40 mixed martial arts (MMA) tournaments.
Oleksandr Popilevych, a 20-year-old student, fought in the Reconquista ten times. "I came for my emotions," he told Zaborona. He says that this was the only place in Kyiv where amateur MMA tournaments were held regularly. Anyone could get into the club: it was enough to talk to the organizer and sign up for the tournament. But in addition to the guys who came to the Reconquista just to "wave their fists," there were often people from far-right neo-Nazi organizations, particularly from abroad.
In May 2018, Robert Rundo, founder of the California-based, far-right organization Rise Above Movement, came to the Reconquista. He fought with a representative of the Ukrainian regiment "Azov". A few months later, Rundo and three other RAM members were arrested in the United States for participating in the Unite the Right rally in Charlottesville in August 2017. A dozen far-right groups, including members of the Ku Klux Klan, then protested local authorities' decision to dismantle the monument to Robert E. Lee. Three people were killed and 38 others were injured in clashes during the march.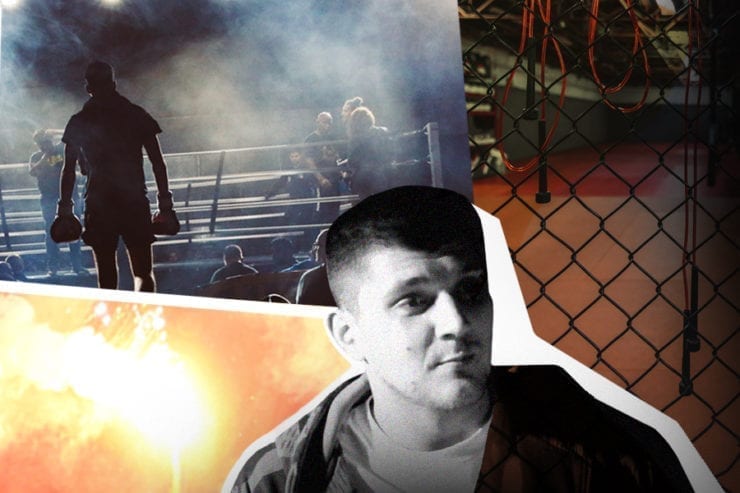 In a criminal complaint, the FBI called RAM an "extremist group of white supremacy." Detectives said Rundo was acquainted with Azov members, whom he called a "paramilitary and neo-Nazi group." Rundo did meet in Kyiv with its representatives, most notably with the international secretary of the National Corps, Olena Semenyaka. Semenyaka herself said that Americans came to sports competitions and were interested in Azov's experience in organizing youth movements.
But most of all, Rundo was inspired by an acquaintance with Denis Nikitin, a Russian football hooligan, founder of the White Rex brand and one of Europe's most notorious neo-Nazis, who has lived in Ukraine for the past few years. He is the organizer of MMA fights at the Reconquista, as well as many other amateur tournaments in Russia and a number of European countries. Rundo was so fascinated by Nikitin that he even got a tattoo with his brand logo.
Nikitin and "around football"
Denis Nikitin's real last name is Kapustin. He is 36 years old, and was born and raised in Russia. In 2001, when he was 17, Denis' family moved to Cologne, Germany. There Nikitin became interested in fights without rules and at the age of 22 got involved with a group of football hooligans, making friends with local ultras. According to Nikitin, he "was a street boy, a skinhead, punching guys in the face." After several years of living in Germany, he returned to Russia, but never told when or why. His family remained in Cologne.
In Moscow, Nikitin met with the ultras of the Moscow club "CSKA", and went with them to street fights. He did not hide the fact that he was uninterested in football. "I don't like football, I like fights. I can't name any players, I don't know the history of the club, I had a hard time finding a stadium. I like the adrenaline, running around the city, going out on the field, action," Nikitin said in a long interview with the Ukrainian ultras website TroubleMakers in 2017. This material was removed almost immediately after its publication, but Zaborona found an archived version.
While living in Russia, Nikitin continued to communicate with German hooligans. When he came to Germany, he went to clashes for the football club "Cologne". Among the ultras of "Cologne" Nikitin was an authority: according to him, he forced the leader to get rid of "foreign elements". "The former life of the group, where some incomprehensible devils, gypsies and Turks came out, is long gone," Nikitin said. He advocates "white supremacy" and calls non-white people "Arabs and other monkeys."
In 2014, the hooligans of "Cologne" beat the fans of another German club "Schalke" — as Nikitin said, it was his "best notch". Following the clashes, the police opened a criminal case, Nikitin was among the suspects. The trials lasted at least until 2017, but how it ended for Nikitin is unknown.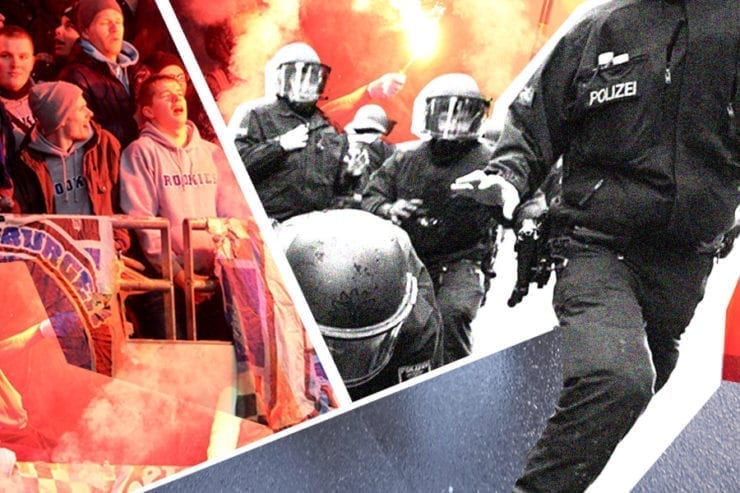 Nikitin and White Rex
Nikitin had no profession or specialty. The Russian news source "Kommersant" wrote that in Moscow he worked for a long time at various jobs — from a cleaner to a bouncer. Having raised enough money, Nikitin founded the clothing brand White Rex in 2008. Mostly, these were things with Nazi symbols. The basis of the White Rex logo is the "Black Sun", which was used in Nazi Germany as an alternative to the swastika. The company was established on the 14th of August, 2008. The number "14" refers to the well-known among neo-Nazis phrase of 14 words "We must protect the existence of our people and the future for white children", and the two eights are considered a coded greeting for "Heil Hitler!". In his book Hooligans: The World Between Football, Violence and Politics, the far-right researcher Robert Klaus calls Nikitin a "Nazi and a businessman." "Nikitin wants to be a kind of main Nazi supplier," Klaus wrote, quoting Nikitin himself. The latter said that White Rex should "cover all spheres of a modern man's life."
In 2011, Nikitin organized an amateur MMA tournament "Spirit of the Warrior" for the first time in Voronezh. He took the fights all over Russia and quickly became an idol for the far right. Nikitin invited only representatives of the "white race", and there were almost no professional athletes among them. In 2013, the Russian TV channel Boets named White Rex the best promotional company, and Nikitin's "Birth of a Nation" competition the best tournament in the country.
The tournaments were monitored by Russian police. Nikitin said that representatives of Center "E", which fights extremism, came to each event. "Sometimes they demanded lists of the participants, sometimes they were filming — openly or hidden. I was ready to take full responsibility [administrative and criminal], but we did nothing illegal. We didn't put up flags with swastikas, I didn't give people axes so that they could go and smash some booths," Nikitin said. Nikitin treated the suspicion of extremism with humor, calling it the opinion of "some radical left-wing freak." In 2013, Nikitin wanted to organize a tournament in Belarus, but the police banned him — the fights had to be held underground. Nikitin was almost arrested, but then everything worked out for him.
"I wanted to drag new athletes 'into the orbit of our ideas'," said Nikitin. Anti-fascist websites wrote that he financially supported arrested neo-Nazis and gave money to organize concerts for neo-Nazi groups. At the same time, Nikitin never had political ambitions and did not claim personal fame.
MMA in Ukraine
In Ukraine, mixed martial arts began to grow in popularity at about the same time as it did in Russia. This is not surprising, because until 2014, Russian and Ukrainian far-right groups were friendly with each other. Ultras of Dynamo Kyiv and one of the founders of MMA in Ukraine, Anatoliy Shponarsky, known by the nickname "Shpon", often came to Nikitin's tournaments in Russia. After 2014, such trips stopped, but Nikitin and Shpon continued to communicate, researcher Pavlo Klymenko, who studies far-right movements in Eastern Europe, told Zaborona. "MMA in general is very common among football hooligans," he added. Zaborona tried to contact Shponarsky, but he did not answer our calls.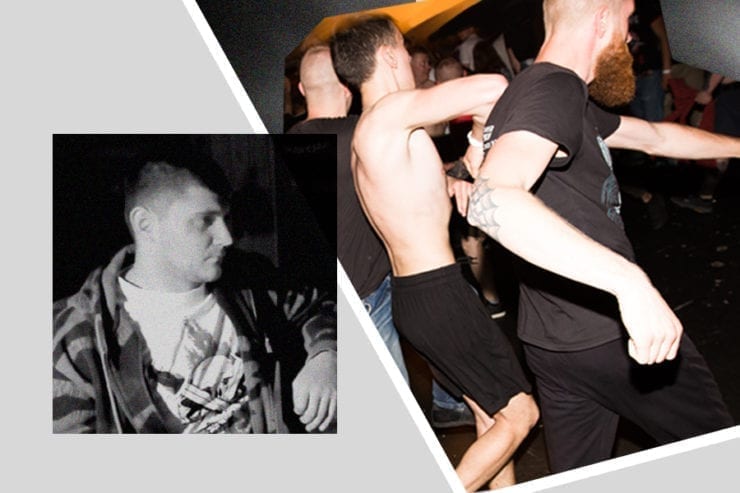 In 2009, Kyiv resident Arseniy Bilodub created the MMA tournament "I'm coming for you", which quickly became popular. Bilodub is the founder of the nationalist clothing brand SvaStone and the soloist of the band the Sokyra Peruna ("the Axe of Perun"), which in the late 90's positioned its music as "Ukrainian white power rock". Zaborona has already written about the concerts of Sokyra Peruna — far-right and neo-Nazis attend, waving flags with a swastika and giving the nazi salute.
"I'm coming for you" was held in different cities throughout Ukraine until 2017. Like Nikitin, Bilodub relied on patriotism and collaborated with nationalist political movements, such as Svoboda, the Right Sector, and Azov. The latter later co-organized the tournaments. The MMA fighters with whom Zaborona spoke said it was a high-level competition, but still not considered a professional sport. "Athletes are prohibited from participating in such amateur tournaments. Although some of the rules were like in professional MMA," says professional fighter Oleksandr Horshechnyk.
In April 2012, Bilodub teamed up with Nikitin. They held a joint MMA tournament in Kyiv, in which more than a hundred fighters from Ukraine, Russia and Belarus competed. There were about 300 spectators, and another 500 people watched the online broadcast, the organizers boasted. Nikitin was proud to work with Bilodub, but later became disillusioned with the Ukrainian tournament. The Russian believed that the competition did not reach a serious level. "'I'm coming for you' has the showcase of a very rigid and airtight event, which only brings together those who know each other. And there are no random people there," the Russian said in an interview with the Ukrainian website TroubleMakers. For Nikitin, who also wanted to spread his ideas to a new audience, this was an unacceptable model. He no longer joined the Ukrainian tournament.
White Rex in Europe
After the tournament in Kyiv in 2012, Nikitin decided to go to Europe. In different countries, he looked for far-right organizations or political parties and offered to hold tournaments together. "Nikitin has become a key figure among right-wing extremists in Europe," wrote far-right researcher Robert Klaus. "He's trying to tie [football] hooligans to the Nazi scene — with a culture of events that turns violence, unity and political hatred into a lucrative festival."
Nikitin has established ties in almost every European country. In Italy, he befriended members of the neo-fascist party CasaPound, whose members consider themselves the successors of dictator Benito Mussolini. Together with them, Nikitin held MMA tournaments in Rome. In Germany, he organized the large-scale competitions Kampf der Nibelungen every spring and was friends with the National Democratic Party of Germany (NPD) and its youth wing Jungen Nationalisten. Party members consider themselves the successors of Hitler's National Socialist Party. White Rex competitions have also taken place in Finland, France, the Czech Republic, Romania and other countries. In addition, Nikitin has conducted combat workshops for nationalist movements in Wales and Switzerland.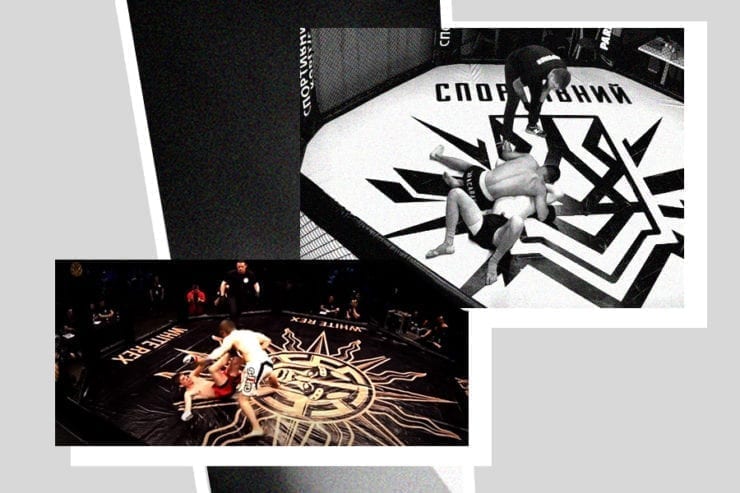 "It is naive to think that martial arts, which are practiced by cruel and committed neo-Nazis, will remain at the level of gyms and tournaments," researcher Robert Klaus told Zaborona. "Neo-Nazis always train for political violence. Nikitin is one of the most dangerous neo-Nazis in Europe. Some of the people he dealt with in Germany belonged to the Blood&Honour group, which supported the right-wing terrorists of the National Socialist Underground in Germany. "
In 2016, Nikitin gathered almost a hundred Russian football hooligans and went to the UEFA European Football Championship in Marseille, France. The Russians brutally beat English fans: two Britons fell into a coma, and one remained partially paralyzed. A year later, BBC journalists searched for the attackers and spoke to their coordinator. The man gave the interview in a White Rex balaclava and T-shirt, his name was Denis, and he looked very much like Nikitin. In response to this material, the Russian state channel Russia Today released its version of events. They said there was no hooligan named Denis, and the BBC wanted to denigrate the Russians. The RT story was released in 2018, although a year earlier Nikitin himself admitted that he had taken part in the attack: "We flew to Marseilles, unloaded and got everything ready. Conflicts could not happen. The British were ferocious everywhere. Our group turned out to be the most odious, decisive and quick. "
Russia was preparing to host the 2018 FIFA World Cup and was trying to control far-right hooligans. After the clashes in Marseilles, the tension increased even more. Authorities feared the event could be canceled, in part because of the bad reputation of Russian fans. There were stories on Russian television that a planned campaign against football ultras was going on. But after Marcel, Nikitin became an unwanted guest in Russia and in Europe. In 2017, he moved to Ukraine.
The Reconquista and Azov
In 2014, the popularity of far-right ideas increased in Ukraine. During Euromaidan, the most active protesters were football hooligans and members of the far-right, and because of the war in Donbass, for which a professional army was not ready, volunteer battalions appeared — and people of far-right views were often admitted to them. For example, the Azov Battalion emerged, which later became a regiment and even later a political party.
Also in 2014, neo-Nazis from Russia came to the battalion, which did not hide its right-wing radical views. For example, Russian Alexei Levkin, who fought in Donbass as part of Azov. He is one of the founders of the neo-Nazi organization Wotanjugend, whose members glorify Adolf Hitler. In the same year, Serhiy Korotkykh, a Russian-born man who had lived in Belarus for a long time and even attended a KGB school, joined Azov. Korotkykh also fought in Donbass on the side of Ukraine, after which he received a Ukrainian passport from Petro Poroshenko. He was later suspected of an attack on Poroshenko. According to some investigative journalists, it may have been in relation to the murder of Pavel Sheremet.
Nikitin was friends with almost all far-right Russians who moved to Ukraine. He also had good relations with the international secretary of the National Corps, Olena Semenyaka. Thanks to Nikitin, Semenyaka established ties with Italian and German neo-Nazis. She does not hide that Nikitin helped her, and sometimes even represented the National Corps instead of her. In 2017, they traveled together to Warsaw for a conference organized by the Polish group Szturmowcy, which supports white supremacy. There, Nikitin spoke of Azov as the only legal paramilitary organization in Europe with right-wing views.
Nikitin was responsible for the fights in Reconquista, which were advertised by Azov. When opening the fights in the club, Nikitin called them "ours" and asked to resolve all issues through it. At the end of 2018, the head of the Azov movement Andriy Biletsky even opened a gym where Azov fighters could prepare for fights.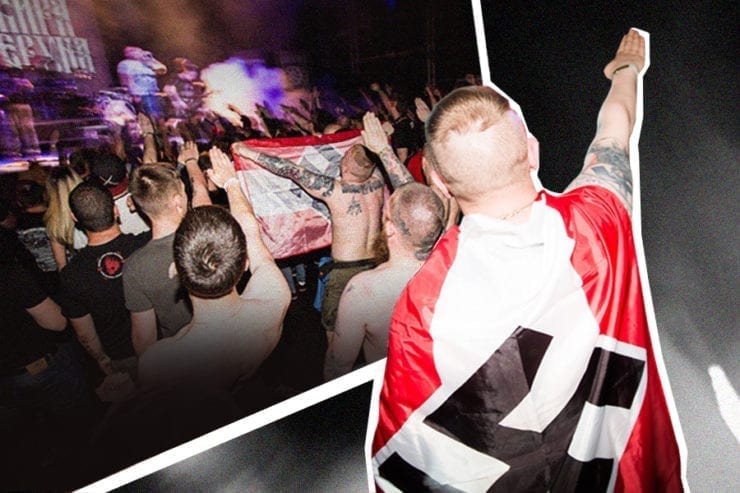 Closing the Reconquista and Nikitin's problems
In May 2019, Nikitin launched a MMA promotion in Kyiv for professional athletes with MMA Fight Kings. It was a new level: with a powerful promotional campaign, a thousand viewers, a telecast and a dozen well-known advertisers — from the bookmaker PariMatch to the sports club SportLife and the shopping center "Tsum". Nikitin did not advertise his involvement in the tournament, but two fighters who took part in Fight Kings (and asked not to reveal their names) told Zaborona that they were conducted by the same person as the fights in the Reconquista. One of them clarified that the organizer's name was Denis. The videographer who filmed the tournament later posted a video with Nikitin and added the #whiterex tag.
Tickets for the tournament cost only 200 hryvnias and could not cover all expenses. Later, the Reconquista closed — the last fight in the restaurant took place, most likely, in July 2019. Now the rooms are empty, there is no old signboard. The phone number listed on the restaurant's website is also invalid.
Since the fall of 2018, Nikitin has disappeared from most social networks. He has left only a page on the Russian social media website VKontakte, but almost nothing is written there. Nikitin has stopped talking to journalists, refusing all contact. Zaborona found Nikitin's contact information and asked him for an interview. At first, Nikitin replied that he would meet with our journalist, but then he stopped answering all messages. The German news source Der Spiegel wrote that Ukrainian law enforcement officers had detained Nikitin on suspicion of drug trafficking, but there is no confirmation of this information. The police told Zaborona that this information was classified.
Pavlo Klymenko says that Nikitin wanted to bring White Rex to the American market, so he had hoped to meet Robert Rundo and his RAM organization. But after the arrest of Robert Rundo, the FBI became interested in Nikitin. In August 2019, Germany stripped Nikitin of his residence permit. It is also dangerous for him to return to Russia. "Russia has long been the center of his life, but after what he did in Europe and Ukraine, especially after working with Azov, he needs to be very careful," said the researcher.
Nikitin recently held his last MMA tournament in Kyiv at the end of 2019 at the Asgardsrei music festival organized by the Russian neo-Nazi Levkin. Researchers Pavlo Klymenko and Robert Klaus expect that Nikitin will soon join the Fortress Europe festival hosted by his old friend from Sokyra Peruna, Arseniy Bilodub. The event was supposed to take place in May 2020, but due to quarantine it has been postponed indefinitely.
With the support of "Media Network"
Translated by Kate Garcia