Kilimnik and Derkach: Defrauding Democracy Across Two Continents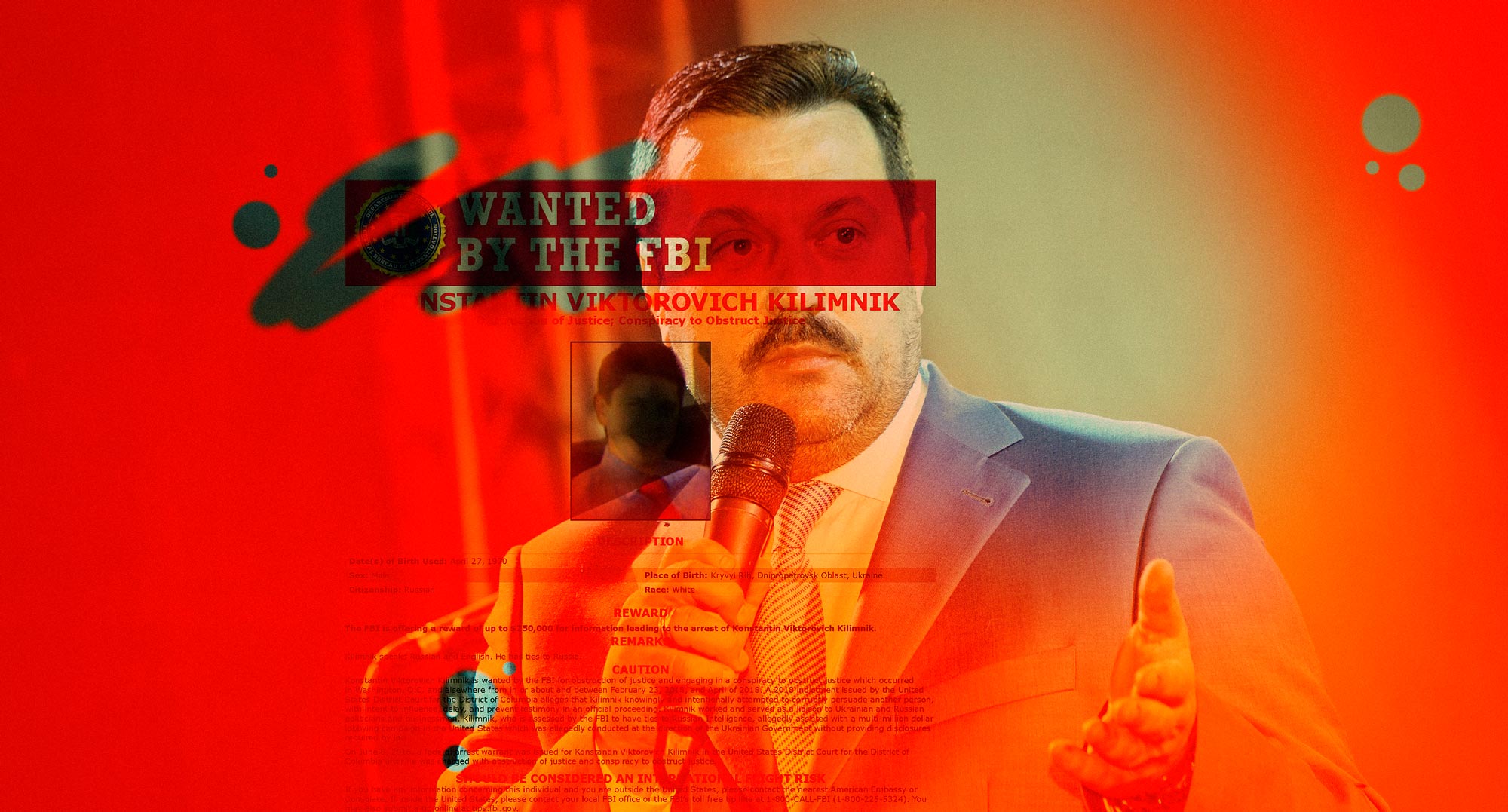 Collage: Snizhana Khromets / Zaborona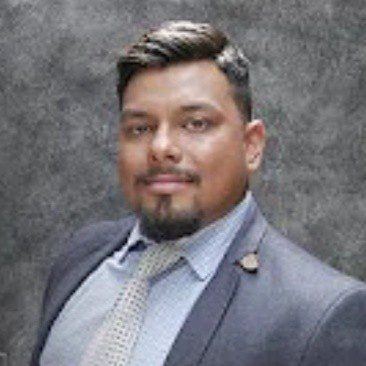 Ukraine and the United States have developed a complicated relationship in recent years, made murkier by accusations of Russian meddling in U.S. elections via Ukrainian proxies. Two names in particular keep coming up – Konstantin Kilimnik and Andriy Derkach. As the names of these two sanctioned 'Russian influence' agents become more well-known, Zaborona's English editor Romeo Kokriatski takes a closer look at their histories and tracks the course that landed these men under U.S. sanction and FBI scrutiny.
Recently, the United States Embassy in the Ukrainian capital of Kyiv tweeted out an FBI wanted poster from their official account. The poster accuses Kilimnik, a political consultant and former associate of Paul Manafort, of having ties to Russian intelligence, and of trying to corrupt testimony in an official proceeding. Kilimnik has been wanted in the United States for nearly three years, ever since a D.C. judge charged him with obstruction of justice and conspiracy to obstruct justice.
The tweet – and the poster – came alongside a newly released intelligence report, prepared by the office of the United States Director of National Intelligence that summarizes what the U.S. intelligence community says to be their conclusions about Russian interference in U.S. elections, in particular the 2020 presidential elections between Donald J. Trump, a former reality TV actor, and Joe Biden, a long-time senator from Delaware.
Kilimnik, alongside Derkach, are mentioned in the report by name, with both alleged to be 'Russian proxies' heavily involved in spreading "…a narrative…alleging corrupt ties between President Biden, his family, and other U.S. officials and Ukraine." These power brokers, while less known in the West, have been figures in Ukrainian politics for decades, with careers stretching back multiple presidential terms and connections to a wide range of public figures across Ukraine, Russia, and the United States.
Konstantin Kilimnik: Building Bridges Between Russia and the Republican Party since 1995
Konstantin Kilimnik is, by all accounts, a small and spindly figure, easily smiling on the staff photo he's featured in. According to the New York Times, his meek nature led to the nickname "Carry-On", making his inconspicuous personality a trait consistently associated with the accused Russian agent.
His background is suitably murky for a person alleged to have been in Russian intelligence for decades. He was born either in the city of Kryvyi Rih in central Ukraine, or the nearby town of Kropyvnytskyi, depending on which source is consulted. Generally speaking, sources agree that he'd left Ukraine for Moscow for higher education, attending the Military University for Foreign Languages – which the New York Times says is a known training ground for Soviet military intelligence agency GRU. After the fall of the Soviet Union, the then-linguist, likely owing to his English-language skills, found a job at the Moscow branch of the International Republican Institute, a technically non-partisan democratic advocacy group funded by the U.S. federal government yet staffed almost primarily by Republicans.
From there, Kilimnik made friends with a number of to-be Republican political operators, providing him with an in to the world of international lobbying. He worked for IRI until 2005, when he was fired – because at the time, he'd already started informally working for Paul Manafort in Kyiv, and would soon become Manafort's right-hand man in the country. Kilimnik brought with him not just his language skills, but a deep bench of contacts, including Russian oligarchs close to Vladimir Putin. A former colleague at Manafort's firm, Rick Gates, testified to U.S. Special Counsel Robert Mueller that Gates believed Kilimnik to be a former GRU agent.
Together, Manafort and Kilimnik became power players between oligarchs seen as generally pro-Russian, including Rinat Akhmetov, the Ukrainian Party of Regions, and Republican diplomats and politicians in the United States. Their work helped elect exiled Ukrainian president Viktor Yanukovych, and though their reputation was tarnished following Yanukovych's flight to Russia, many of Manafort's team – including Manafort himself and Rick Gates – signed up to manage the Donald Trump presidential campaign in 2016.
Kilimnik, however, had a different idea in mind. According to Meduza, Kilimnik had already established himself as a broker in Donbas, and was suspected of serving as a go-between for Rinat Akhmetov and the Ukrainian government in their efforts to resolve the situation; yet in 2016, with Trump's campaign in full swing, Kilimnik began to hobnob with Trump and Republican luminaries in D.C. with the alleged aim of persuading a possible U.S. president to take a softer stance on Russia and to relax sanctions.
In 2018, when the arrest warrant was issued following Mueller's investigation of Russian interference in the 2016 elections, Kilimnik was already living full time in Moscow, having gotten wind of the FBI investigation in early 2017. Despite U.S. efforts, it is unlikely that he will be tried by United States authorities for his outstanding charges.
FBI
Andriy Derkach: Giuliani's Friend in Kyiv and 'Active Russian Agent'
Unlike Konstantin Kilimnik, who was a relative unknown outside the rarefied circles of international lobbying and political consulting, Andriy Derkach has been a public figure in Ukrainian politics for decades. Born in Dnipro city in 1967, Derkach grew up in a family with close ties to both Soviet and later, Ukrainian intelligence: his father, Leonid, was a former KGB officer and head of the Security Service of Ukraine until 2001, and reportedly had close ties with then-Ukrainian president Leonid Kuchma.
Derkach's path didn't take him far from his father's vocation – he first graduated from the Kharkiv Higher Military Command Engineering School, and in 1993 he completed his PhD in Law at the Dzerzhinsky Higher School of the KGB – now known as the FSB Academy. His political career developed quickly, and by 1994, Derkach was serving as the Deputy Head of the Control Service of the President of Ukraine. According to Derkach's own biography on his website, the alleged Russian agent then spent a year as a presidential advisor on foreign economic questions before becoming the First Deputy to the Prime Minister and finally being elected to the Ukrainian Parliament in 1998.
Andriy Derkach. Photo: Vadym Chupryna / Wikimedia
From 2006-2007, Derkach served as President of state-owned nuclear power company Energoatom, and as General Director of state-owned Ukratomprom. During his time as President of Energoatom, Derkach signed an agreement with Russian Rosatom that provided for Russian participation in constructing new nuclear plants and would enmesh Russian-Ukrainian nuclear cooperation in Ukraine's energy sector. This move was highly criticized by pro-European and green initiatives in Ukraine as "contradict[ing] the Eurointegration policy of Ukraine."
Russian Ambassador to Ukraine (2001-2009) Viktor Chernomyrdin (left), with then-Energoatom president Andriy Derkach (right). Photo: Oleh Hordienko / UNIAN
Derkach's involvement in Ukraine's nuclear industry may not have ended in 2007, however: Polish defense analyst Pawel Kost claims that Derkach is very close to the current leadership stable of Energoatom, with advisors and deputies of the current acting president of the company all having ties to the MP. In addition to his energy concerns, he's said to be the 'de facto owner' of several Ukrainian media outlets, including radio stations and newspapers.
He first appeared in the candidate lists of the pro-Russian Party of Regions in 2007, and worked closely with its leader, Viktor Yanukovych, voting for infamous 'dictatorship' laws that sparked the heaviest conflicts of the Euromaidan.
From right to left: Ukrainian Prime Minister Mykola Azarov, Party of Region MP Andriy Derkach, and Ukrainian Minister of Culture Mykhailo Kulynyak. 2012. Photo: Oleh Markevych / UNIAN
The 2020 U.S. sanctions on Derkach, however, were triggered by what the U.S. government says was an 'attempt to influence the 2020 U.S. presidential election' in 2019. He released several edited audio tapes of then-U.S. vice-president Joe Biden in an attempt to smear Biden during the election as engaging in corrupt practices in Ukraine, though it was his friendship with Donald Trump's personal lawyer, Rudy Giuliani, that really raised eyebrows. Giuliani, drawn to Ukraine in efforts to tie Trump's opponent to corrupt dealings, met with Derkach several times during Giuliani's trips to Ukraine, and had even appeared on Giuliani's podcast – accusing the Obama administration of misusing funds earmarked for Ukrainian aid.
The tapes he released found their way onto the One America Network, a far-right media outlet closely connected to the Trump administration, which has consistently supported conspiracy-laden Joe Biden smears and other purported corrupt links between the Obama administration and Ukraine, including the debunked conspiracy that Ukraine interfered in the 2016 U.S. presidential elections.
Petro Poroshenko and Andriy Derkach, 2013. Photo: Vladyslav Musienko / UNIAN
For his part, following the outing of Derkach as a Russian agent by U.S. intelligence, Giuliani attempted to deny any close connections with the pro-Russian politician. Sanctions have also been applied to many of Derkach's associates and businesses – and the DNI report alleges that Derkach's activities were personally overseen by Russian president Vladimir Putin. Derkach remains a member of the Ukrainian parliament and is currently an independent MP.
His Telegram channel continues to push discredited accusations of corruption against former Ukrainian president Petro Poroshenko and ex-National Bank of Ukraine head Valeria Gontareva (with a recent example being his allegations that Privatbank, formerly owned by oligarch Ihor Kolomoisky before a $5.5 billion fraud was revealed, was 'stolen'). Andriy Derkach has not been charged or sanctioned at time of publication by Ukrainian authorities over any revelations provided by the U.S. government, including his alleged status as an 'active Russian agent.'