According to UN statistics, more than 5 million people have been forced to leave Ukraine since the beginning of the full-scale war. Some of them will definitely return, and some will decide to stay and join the Ukrainian community abroad. But now everyone is united due to the Russian invasion, and many Ukrainians are trying to help their country, even being thousands of miles away. Journalist Yelyzaveta Khorosheva in her special report for Zaborona spoke with Ukrainians who ended up in Europe both before and after the start of the war. Now they are picketing, volunteering, and "brainwashing" those who don't understand what happened on February 24.
Elia Kent, 24 years old. She has lived and worked in the Netherlands for four years. Today she is a volunteer in the municipality of The Hague
The news of the full-scale invasion caught up with Elia on vacation in Austria: "I was surrounded by the stunning beauty of the Alps, the sunsets were blazing, people continued to live, and along with my time, I stopped with the phone in my hand, in endless calls to my mother."
The girl's family is from Kyiv. In a conversation with Zaborona, Elia jokes that persuading grandparents to leave the capital was more difficult than finding an apartment in western Ukraine after the start of the war. But despite all the difficulties, in early March, her mother left by car through Chisinau to Europe. And of the older members of the family, the girl managed to take out only the parents of her father – now they are in Ternopil.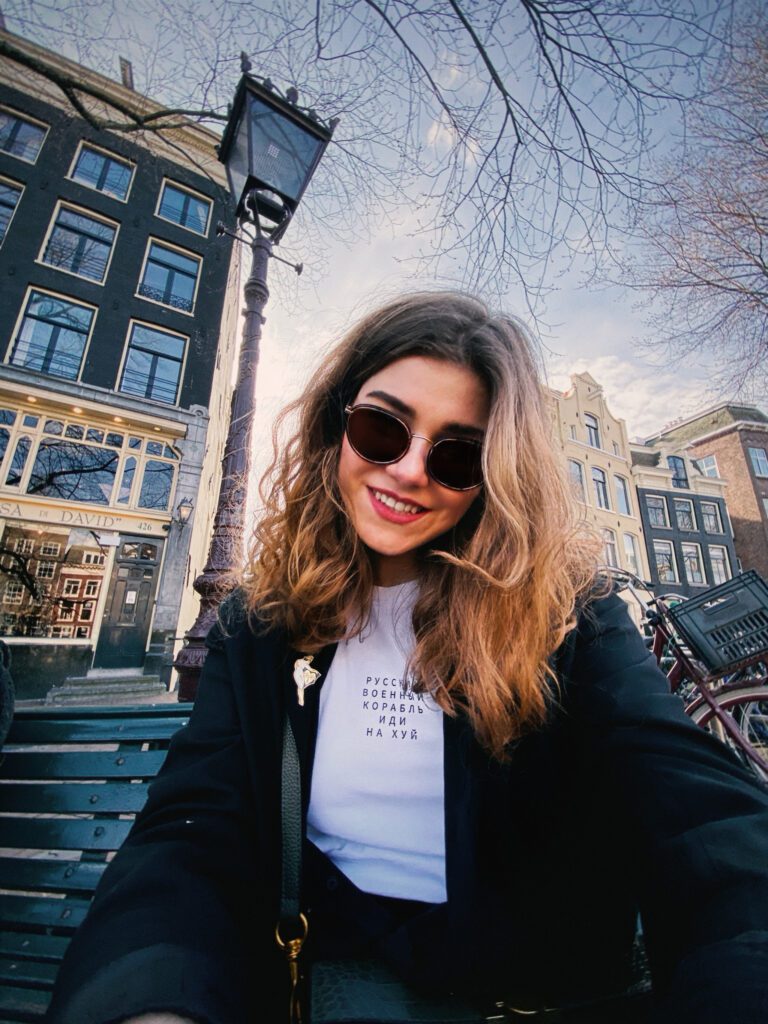 Four years ago, Elia moved to the Netherlands – she entered the master's program at Utrecht University after graduating from Kyiv Polytechnic University. Today, she has been working as a data analyst at an engineering company in The Hague for two years. But in early March the girl went to volunteer.
"It would be very difficult to be in the incredible comfort of my daily life, to constantly watch the news, to ask the question" Well, how could it happen?" and at the same time not to help people," she says. "The help has incredibly developed a sense of unity. In practice, I was convinced that faith in humanity has not yet been lost, because there are so many kinds, of generous and responsible people around."
Elia acted as a translator in the municipality for the reception of refugees and for a little over a month she went there for evening shifts three times a week. It was necessary to translate from Dutch and English into Ukrainian, explain the rules of the reception point and answer questions. In addition, municipal officials found housing (mostly hotels) for people who had no connections in the country. Most often it was women with children. Toys, clothes, SIM cards, and hygiene items could be taken at the same aid point.
"The Dutch donated a lot of things to such district centers; sometimes it was necessary to help unload bags and boxes. My fellow volunteers organize food, medicine, and other necessities, directly coordinating hotels and other places of temporary accommodation. I also keep in touch with some of the refugees through my personal messengers: I need to help children get a place at school, and adults need to find a job and organize documents," explains Elia.
In addition, together with her husband, she buys turnstiles, bandages, first aid kits, and other things necessary at war. They take them to an organization that constantly sends loaded buses to Ukraine. They are assisted in this by the husband's Dutch colleagues, who have made a separate bank account to raise funds.
In mid-April, Elia fell ill with Covid and was unable to travel to the refugee location, so she threw herself into the online space: "Back in March, I made a WhatsApp chat for myself and colleagues, but due to the number of problems and questions, it quickly became a peculiar hub of coordinators and translators. Now there are about 50 volunteers in The Hague and the surrounding area, who continue to be actively involved in operating all the aid points, hotels, and homes. The questions appear there every day, and people need to be helped to find everything from baby food bottles to work laptops."
The girl considers the housing crisis as the biggest problem for volunteers. Even stable Dutch people suffer from it. According to Elia, in the country, the landlord chooses from the tenants, not the other way around. Therefore, refugees from Ukraine had to realize that finding separate housing without the help of the municipality will be difficult, and to provide the same comfortable conditions for thousands of Ukrainians who come is a very difficult task: "There are simply no places, and demand is huge."
Elia says that the locals are very sympathetic and help Ukraine. For example, the large fundraising company Giro555 raised more than 160 million euros in the week of March, while other companies organized local rallies to help refugees and small businesses. The girl herself says that she has an anxiety disorder, so she is worried about everything that is happening in Ukraine, but she doesn't stop helping.
"I don't plan to return to Ukraine," says Elia. "But I really want to visit Kyiv as soon as possible, hug everyone tightly, lie down on the grass somewhere in the A.V. Fomin botanical garden and cry for the first time since February 24."
Yevhen Naumenko, 21 years old. Master of sports of international class in diving. Today he is preparing for the competition in Berlin
Yevhen was born and raised in Zaporizhzhia. From the age of five, he went in for sports, participated in a lot of diving competitions abroad, and became a winner of world and European championships. In 2022 he had to leave Ukraine again. The reason was again sports, but the Russian invasion was unfolding in the background. After February 24, Yevhen was in Zaporizhzhia for about a month: he says that, like all Ukrainians, he helped the Territorial Defense, fortified the city, and scrolled the news feed.
At the same time, the Ministry of Youth and Sports of Ukraine ordered organizing a training camp in Croatia to prepare the national diving team for international competitions. The order referred to 29 people, including Yevhen. The guy admits to Zaborona that he did not want to leave Ukraine for a long time, but his parents asked him to, so he could not refuse – it was difficult to see his mother's tears.
"We worked in Croatia for about three weeks. Athletes regained their strength because they hadn't trained for almost a month. Then we went to Bolzano, Italy, because Croatia does not have all the conditions for training: there is a lack of platforms of 7 and 10 meters," says Yevhen.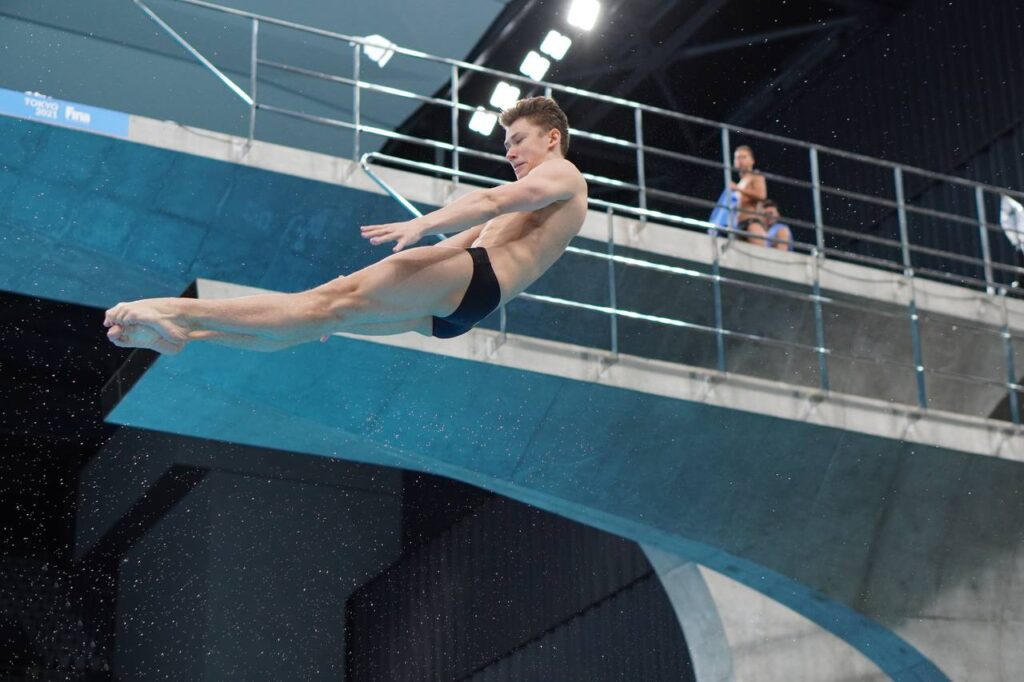 Athletes abroad are provided by the countries in which they are being trained, and the daily allowance is issued by the Ukrainian ministry. "When we were in Croatia, we lived in such awesome apartments," says the guy. "When we arrived in Italy, we were met by Tanya Cagnotto, an Italian Olympic medalist. She helped us to settle in, and found a hotel for us."
Today Yevhen, like his teammates, is gradually improving his psychological state. Training and a psychologist help to distract from the bad news. However, sometimes, usually in the evening, emotions can overflow him, says the athlete.
"As for the mood in the team, everything has changed for the better, we have become one. Sometimes we distract ourselves by brainwashing Russians in chat roulette and a can of dark beer," laughs Yevhen.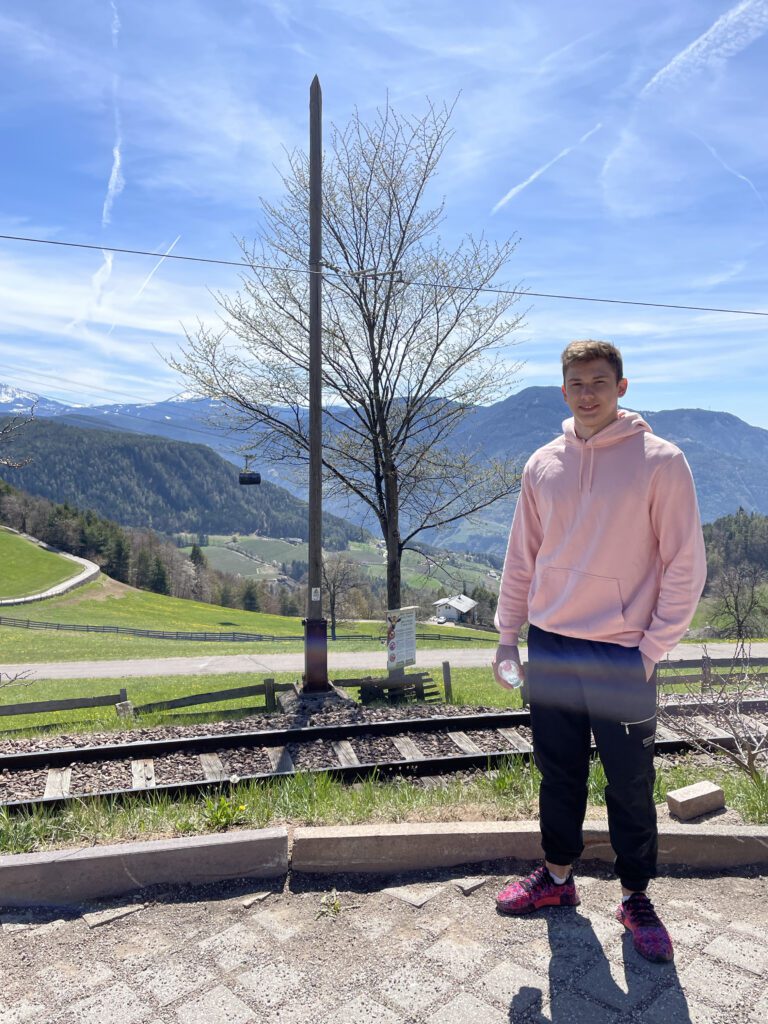 The guy assures: he always thought that sport was out of politics, but now he thinks differently. Like, when the life of relatives is threatened, it is impossible to be "out". In addition, according to him, no one on the team now maintains relations with Russian athletes: "They are all slaves and obey their "great commander Putin".
"In the beginning, we tried something: we talked to Ruslan Ternov [a Russian diver], who came to visit us in Zaporizhzhia. We gave him bacon for the journey, his grandmother lives near Kyiv, but he is a complete idiot. He was here, calling us brothers, but when the war started, he said, "Your war is your problem." After that, he immediately followed the Russian ship," says Yevhen. "They all shout that war is bad, that they stand for peace, but they did nothing to prevent it. They train there, work, pay taxes and passively support their fucking Putin."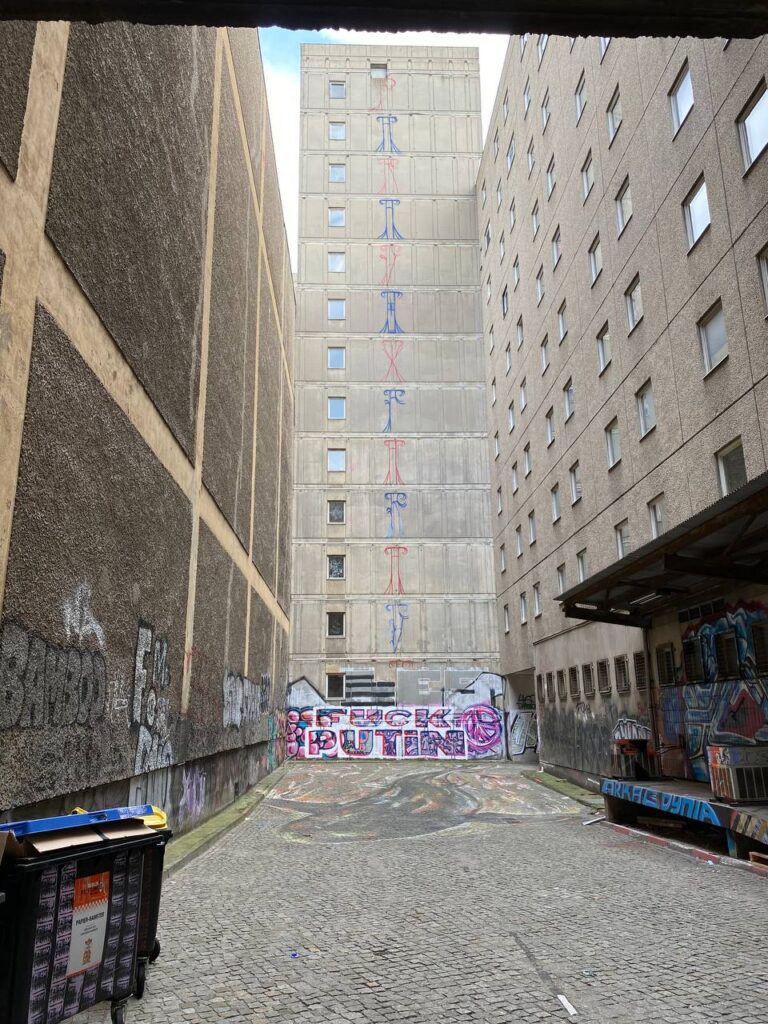 Now the young man takes part in competitions in Berlin, the team is preparing for the World Cup in Budapest. Yevhen has a lot of questions both about Hungary itself, which takes a rather pro-Russian position during the war, and on the participation of Russian athletes in any competition: "Initially, the venue was Japan, but there was a wave of another virus, so the championship moved to Budapest, and now, I understand, there is no place or time [to look for a new place to compete]. But FINA [International Swimming Federation] and LEN [European Swimming League] have already suspended [Russians] from participating in the European and World Championships. They will sit on their asses there, holding some of their own competitions, where only they and Belarusians will perform."
Yevhen doesn't know how long the team will have to stay abroad, but he assumes that until the war in Ukraine ends. In a short time, the guy has visited three countries but really wants to return home.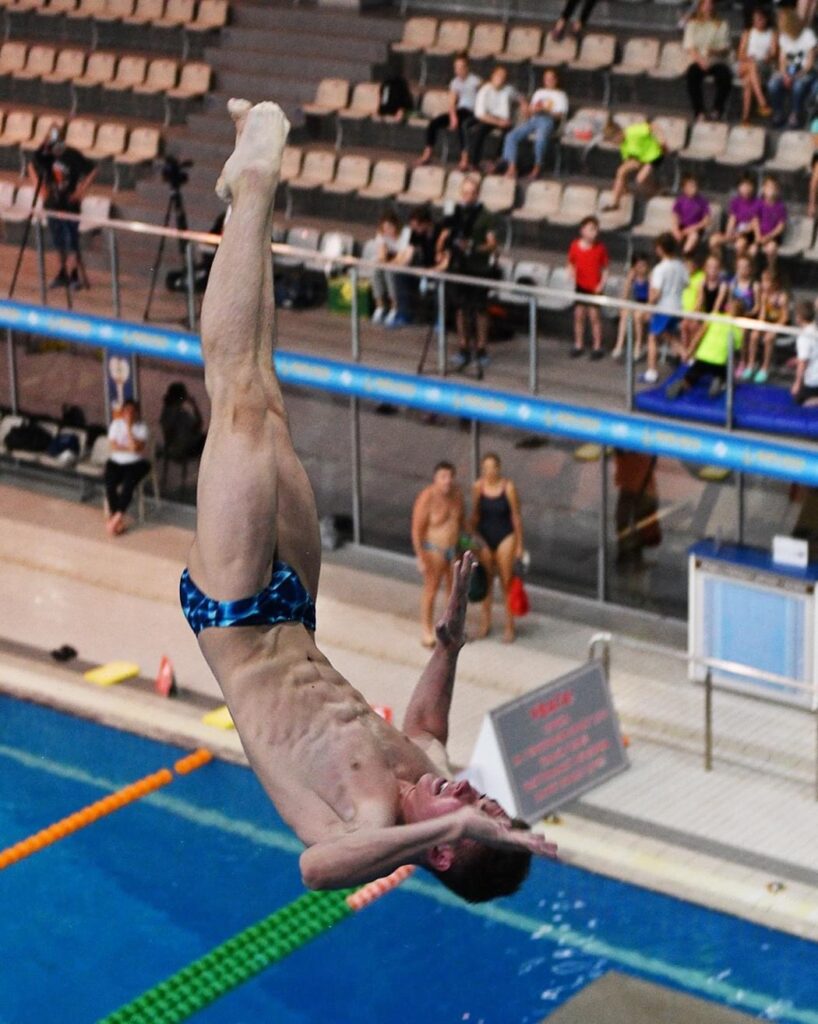 "To my surprise, I didn't even see the Russians or notice them. Everyone supports Ukraine and Ukrainians and provides everything they need as much as possible. Ukrainian flags and "fuck Putin" inscriptions are everywhere," he says. "Here I represent my country, I defend its honor, when I can – I help financially. But I really miss my family, my home. Wherever I am, I know that home is better."
Valeria Vyalkova, 22 years old. The activist in Ukrainian Students for Freedom NGO. Today she is picketing pro-Russian actions in Osnabrück
Valeria met the first day of the full-scale invasion in Kharkiv, but her mother was able to take her home to Sumy: "Of course, it was not the safest place, because Russians bombed the town, but still the situation there was relatively better," she tells to Zaborona.
The decision to leave Ukraine was perhaps the most difficult in the girl's life. There were many reasons: concern for their safety and the lives of relatives, for the future. Valeria admits that in Sumy, due to fear of looting, she slept with an ax at her side, because it was the only weapon for self-defense.
Still, the main reason for leaving was the feeling of complete helplessness: "I wanted to help in the war, to feel useful, to bring victory, but all this was impossible from the basement of my house. On March 9, I left with friends for Poltava, and my mother and grandmother stayed in Sumy. On March 12 I crossed the border with Poland, and the next day arrived at a refugee camp near Osnabrück in Germany."
Now Valeria is taking part in demonstrations in support of Ukraine, raising money to help the Armed Forces, informing local Germans, and engaging in the information war with Russians in Germany.
The latter prepared a pro-Russian rally "Against Russophobia, Nazism and Fascism" in Osnabrück on April 10. The girl saw the message about the event two hours before the start in a local chat of Ukrainians. And spontaneously decided to hold a picket.
"There was little time. Unfortunately, it was no longer possible to prepare a big protest like in Hanover or Berlin," she said. "We [the community of Ukrainians in Osnabrück] have not yet managed to unite enough to react quickly to such events, but I could not leave it "without a fight". I felt angry and turned a blind eye to it seemed like a loss."
The girl had neither the time nor the resources to think about the details of her protest. So she decided to repeat the Berlin demonstration dedicated to the residents of the Kyiv region killed by the occupiers. At that time, people were lying on the ground with gags and their hands tied.
"I took a bandage, red lipstick, colored markers, and cardboard from a box. While driving to the point of destination, I wrote: "Killed for being Ukrainians." When I was already there, I was a little frightened by what I saw: more than 200 people, and the tricolor fluttered everywhere. Some danced, others applauded. The presence of the police calmed down both them and our Ukrainians, who came to see the faces of those who support Russia," Valeria said.
The girl found a comfortable place a few meters from the crowd, put on a sign, and asked one of the observers to tie her hands and eyes, then lay down on the ground. She did not see what was happening, but she heard everything well.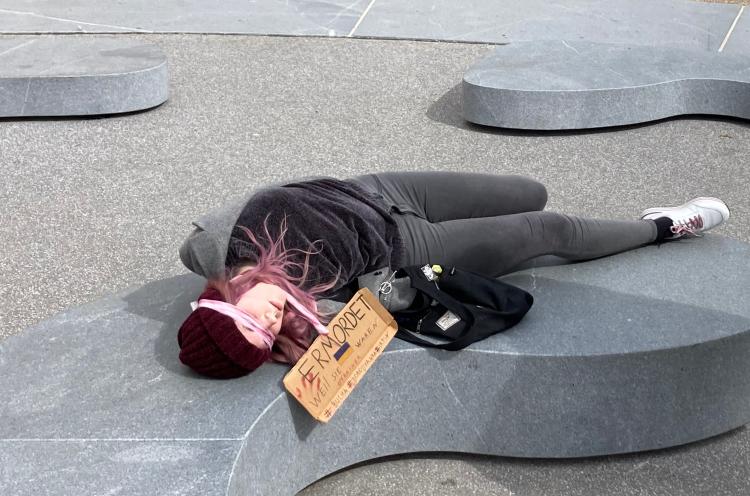 "Some people said that their children were not allowed to come to birthday parties because they were from Russia, others sang 'Katyusha' and shouted, 'Russia!' It was a real parade of Nazis who came to dance on the bones. The reaction to me was almost instantaneous. They said, "Go away," "Oh, the Nazi has come," and "You deserve it." There was ridicule and more aggressive treatment. They asked me where I had been for 8 years when Donbas was bombed. One woman asked, "Didn't you freeze your ass?" and a man shouted that it was all propaganda and lies. So I lay there for about half an hour, after which they went to march through the city," she said.
There was no physical aggression by the Russians. People constantly approached the girl with threats but didn't dare to force her out of the park where the rally took place. At one point, a German approached her to protect her from possible attacks. Valeria left the place unharmed, except for being a little cold and wet – at the end of the rally, it rained. Everything that happened at the protest reached the local media. Many people expressed their support for Ukraine and Valeria personally.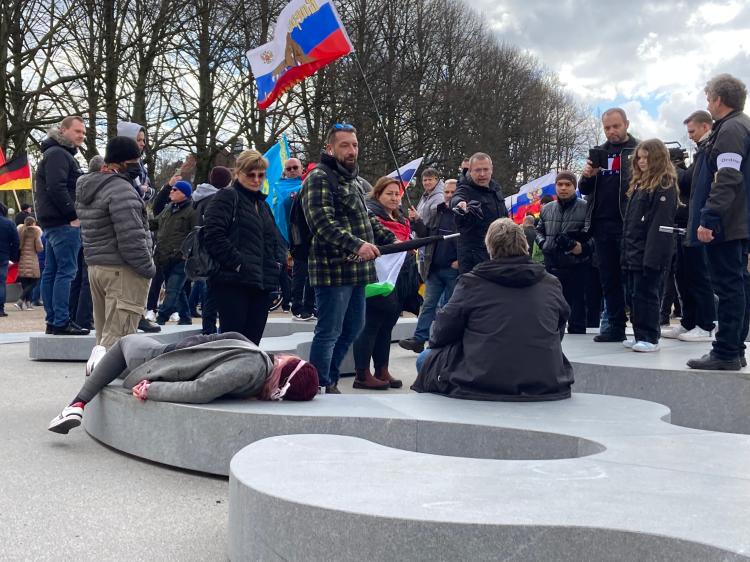 "I remember mixed emotions. At the protest itself, there was despair, anger, and pain. Being alone with predators, listening to their singing, and laughing at their reactions. All the memories, news, photos and stories from the war flashed through my head at that time. They are not worried about death, crippled and raped children, tortured women and men, or destroyed cities – nothing. And these 200 people are just a part of what Russia is," the girl is indignant. "There is a lot of talk in the West about Putin's war, but were there 200 clones of Putin in the park? Did Putin himself tell me that this is what we need? "
Valeria was given hope by the Germans, local media, and their reaction. If she manages to change their minds and turn them in the right direction, it will be able to bring Ukraine closer to victory, and therefore it is not in vain: "Our freedom is the highest value for me, and I'm ready to fight for it."
"The Germans generally support Ukraine. They provide a lot of help to refugees; at every step, I have always met friendliness and compassion. In different nooks and crannies, on many buildings, you can see Ukrainian flags, but there are some things that we don't understand. One of them is pacifism," Valeria explains. "The Germans have been paying for their crimes and the crimes of their parents or grandparents for years. The cult of guilt is what their society has been built on for decades. And this affects, for example, the armaments policy, which has always been the least popular among their people. For them, providing military support to any country is unacceptable, because Germany has caused a lot of pain and tragedy in the past. They don't want to be associated with any war, but because of the war in Ukraine, this attitude is still changing. More and more Germans are beginning to realize that for us Ukrainians, fighting without heavy weapons against Russian aggression means losing thousands of innocent lives."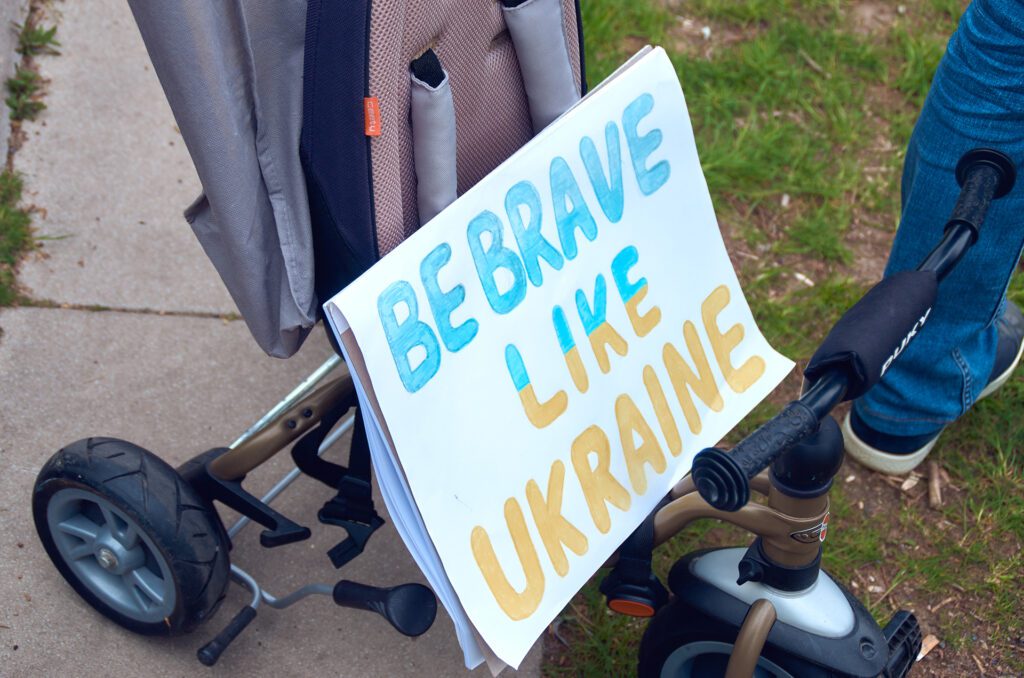 The activity of Ukrainians in Osnabrück was not limited to a single picket. At the city's Yellow & Blue Festival, they organized a Hear Ukraine demonstration, which opened the event. On May 1, there was a demonstration dedicated to Mariupol, and the second pro-Russian march took place on the same day. The list of demands was already long: say no to Russophobia, Nazism, fascism, NATO, and the supply of weapons to Ukraine. Ukrainians wanted to hold a rally next to Russians, but the local authorities and the police did not allow it, because it was "too dangerous."
Today, Valeria and other Ukrainians are trying to register the Ukrainian community in Osnabrück. It has existed since World War II but then was disbanded. Currently, there are more than 3,000 refugees in the city and many Ukrainians who lived here before the war. The registered community will allow its members to do more: to attract sponsors, to raise funds to help Ukraine – both military and ordinary Ukrainians.
"A large-scale information war is taking place in Germany. There are still many narratives that Russia has enshrined in the minds of Germans over the years of its propaganda machine existence. Nevertheless, the Germans see and hear us, try to help, put pressure on politicians," the girl is sure. "They see our suffering and the true face of Russian aggression."