"No One Here Is Going to Sell Out for a Bowl of Stew." The Citizens of Kherson Talk about Survival and Demonstrating for Ukraine during the Occupation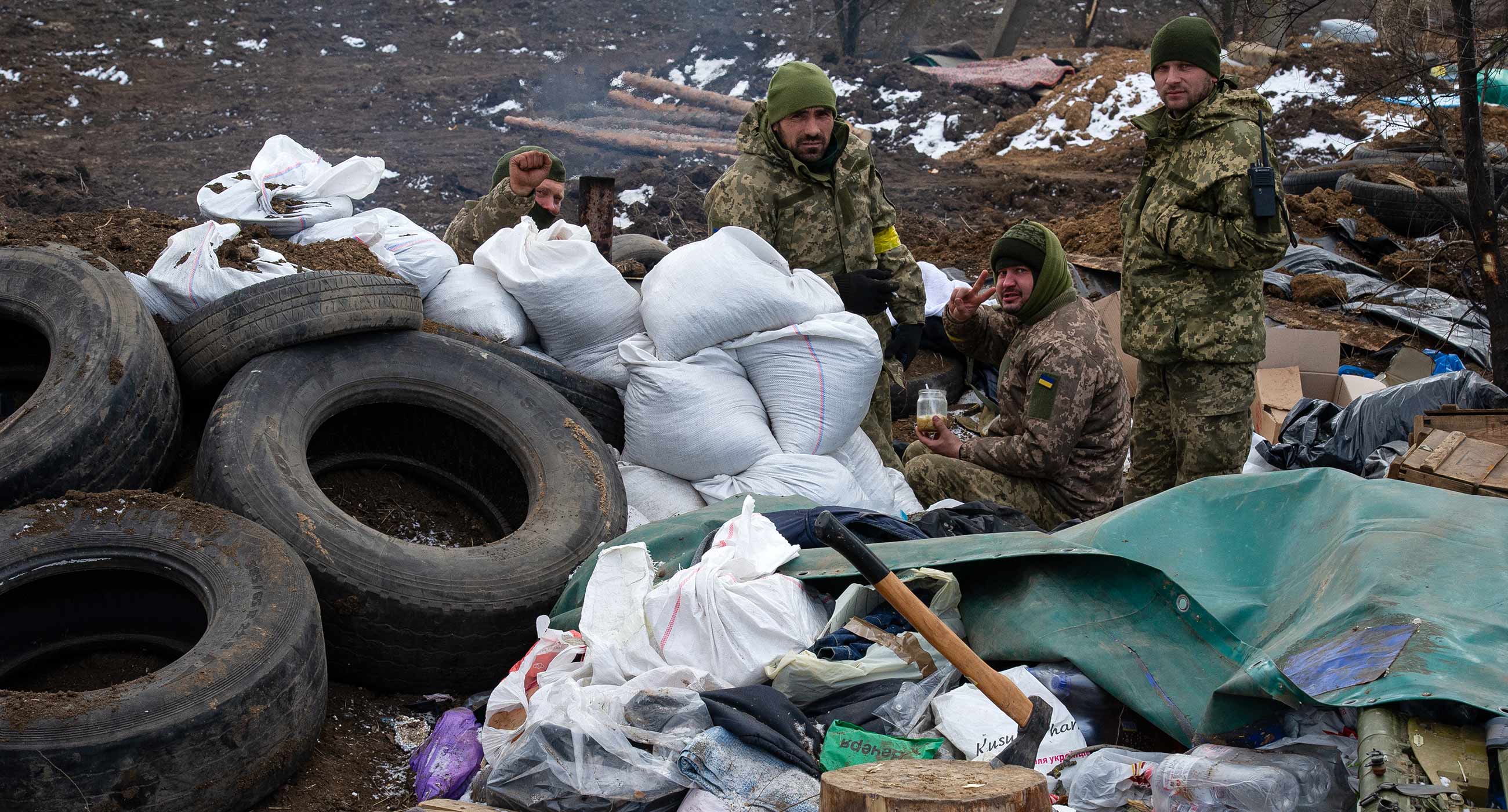 Ukrainian soldiers in their position near Kherson. Photo: Scott Peterson / Getty Images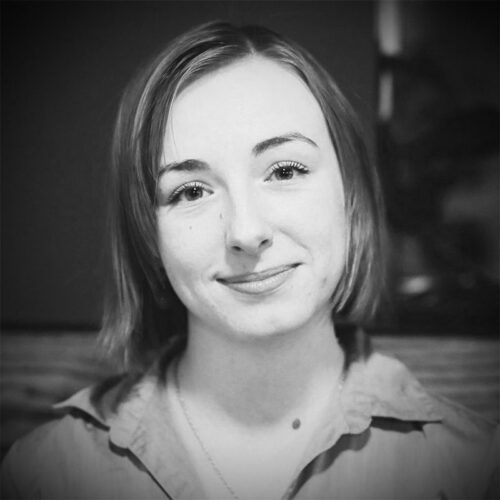 On March 1, the Russian army started storming Kherson. The occupiers killed members of the territorial defense unit who were trying to stop the progress of the Russian army tanks.
The supply chain of food and medicine from Ukraine has been blocked. Despite this, people are taking to the streets for pro-Ukrainian demonstrations shouting "Kherson is Ukraine!" and refusing to accept Russian humanitarian aid.
Eyewitnesses speak of destroyed residential buildings. Currently, it is difficult to leave the city. The Russian army has withdrawn but the Russian Guard and the Special Quick Response Unit have arrived and have taken over the investigative detention center.
How, instead of going to work, the people of Kherson are searching for food, how it is that even though under occupation they can still shout "Zelenskyy is a hero and Putin is a dickhead," without retribution while activists in the area are being kidnapped – four residents of Kherson tell Zaborona.
Kostiantyn Ryzhenko, 27, journalist at the investigative site "Kherson Newscity"
There are constant appearances of claims about the accession of Kherson to the Russian Federation and about a referendum. That is why there is no point in fighting and letting the city be destroyed. Despite the fact that many people come out for pro-Ukrainian demonstrations, they try to behave civilly to the population. People are not impeded physically but are frightened by fakes: announcements that participants in demonstrations will be executed and that criminal groups from Crimea have been brought into the city.
On the first day, there were about 7000 people at the pro-Ukrainian demonstration. Then the numbers kept dwindling because of the need to stand in long lines at stores.
The Russians entered the city aggressively to show who was in charge. There were air raids then but now they are beyond the city limits. It's hard to tell whether there were victims in the ruined buildings because no one was trying to unearth the rubble. They could shoot up your car or drop a bomb.
Kostiantyn Ryzhenko
At the moment, the Russian army has withdrawn from Kherson but a large number of Russian guards and Special Quick Response Units have been brought in. At the moment they are unfamiliar with the area and don't know whom to look for and where, but they are familiarizing themselves with the city. The stage is set for persecution. They are figuring out who the organizers and activists are. Today, in one of the Russian publications, I was accused of causing the deaths of some territorial defenders.
Kherson has always been considered a pro-Russian city. They think that Kherson is Russian but the people here are Russian-speaking Ukrainians, no less patriotic than those in other areas of Ukraine. What's our plan? We're, in any case, waiting to be liberated.
The city is surrounded and a humanitarian catastrophe is in the making. The only way to get out is to Crimea. It's impossible to get food and medicines from Ukraine and they are constantly trying to get us to accept humanitarian aid from Russia. They are wearing us down and waiting until our supplies are gone and people will accept their humanitarian aid so that they can say, "We are helping Kherson which will now become the Kherson People's Republic.
Serhiy Ilyin, 42, resident of Kherson
The Special Quick Response Units or the OMON are stationed at the oblast army base. They have black uniforms and gray cars. At about 15:00 I was riding my bike when I saw five or six persons with white armbands piling up sandbags for protection. There is information that the Special Mobile Unit has taken over the temporary holding areas. For many days their hardware was traveling in the direction of Mykolaiv but today was heading in the opposite direction.
Our municipal guards are seeing to it that there is no looting going on, but only by our own people. Some stores have been robbed by the Russians.
There are daily pro-Ukrainian demonstrations. We protest about fifty to a hundred meters from the occupiers. If we get any closer the municipal guard or someone from the occupational forces disburses the people. Warning shots into the air were fired only on the first day.
On March 1, people [members of the defense forces] were shot. Citizens organized the removal of the bodies and their burial. On the other side, I saw a destroyed Russian truck and the remains of some bodies. On the bridge where there had been a battle there were also bodies left behind.
Our people are expecting Kherson to be liberated tomorrow or the day after.
Destroyed Russian hardware near Kherson. Photo: Scott Peterson / Getty Images
Maria, 28, daughter-in-law of a member of the Kherson defense forces
The defense forces of the Shumenskiy neighborhood of Kherson were obliterated. They were stationed in the park and at the entrance to the city. There were about 74 people killed [the exact number can not be confirmed, according to some witnesses the number of dead was somewhere between 20 and 50] in the park and more who were leaving. The victims were buried but it is unclear whether all were identified. There are still persons being searched for by relatives.
The wounded are in the hospital. So is my father-in-law. They shot him three times. He lost an eye and his jaw and a bone in his foot were shattered. He is in a combative mood and says when he recovers he is going back to fight.
Veronika, 31, lives in the center of Kherson
I will tell you how we live but I will not discuss politics. I can hear the pro-Ukrainian demonstrations and how they shout "Shame." We don't go out because it is too dangerous. I am responsible for a child and elderly parents. We sleep in our beds but at night we move the mattress to the kitchen where there is no window.
Instead of going to work, we embark on an endless search for food and medicines. Today I spent all day looking for pills that my parents and grandparents need every day. We have shared lists of necessities with friends so if we find something we buy the things for everyone. We have been to about forty places in the city center. We managed to get some things but that did not solve the problem. The pharmacies can't say anything about when new supplies will come, only that there will be nothing unless there's a green corridor.
With food, it's been horrible to this day when, for example, you have to wait two and a half hours for a loaf of bread. There are no cereals or flour. Markets in the center are closed. They say that there were potatoes somewhere on the outskirts where some trucks were allowed to pass. Quantities of food products are all restricted: ten eggs, one milk, five kilos of potatoes.
We got to the store for milk before opening. There were tens of people before us and they bought the last liter of milk. And I have a child – it's impossible without milk. In the beginning, it was totally horrifying to go outside. Constant Bang Bang Bang. The windows shake. But we have a big family and we hadn't any supplies so someone had to go out.
I don't know anyone who would take Russian humanitarian aid or even think of it. We don't need it. No one here is going to sell out for a bowl of stew.