Oksana Andreeva is an artist, filmmaker, queer artist, trash model and actionist. But she is better known as AntiGonna. For her, it is already an alter ego with which she can create candid works and talk about traumatic things. That's why even friends call her AntiGonna more often than her real name. The artist has invented and developed the genre of horror porn, through which she speaks about gender and sexual violence. Journalist Oksana Semenyk talks about how horror porn came about, why depictions of violence do not necessarily promote it, and how porn can become a critical medium.
"Why is the Ministry of Culture funding the exhibition 'Knife in the cunt'?" This headline, which was spread by Polish right-wing organizations in the media and social networks, made AntiGonna known to all of Białystok, if not all of Poland. There, in September this year, the Arsenal Gallery opened the exhibition "Fear" about violence and various painful topics in modern society. Ukrainian artist Mykyta Kadan is a co-curator, and the gallery itself often collaborates with Ukrainian artists and organizes exhibitions dedicated to far-right violence.
Polish conservatives were outraged by the way Andriy Boyko, a collaborator with AntiGonna (and also a photographer for Zaborona), portrayed the artist with a knife in her vagina. The "Knife in the Cunt" manifesto was added to the photos. Conservatives have accused AntiGonna of promoting violence. And although the scandal began a month ago, they are still talking about it and protesting in front of the gallery. The Ministry of Culture of Poland asked to remove its logo from the visual materials of the exhibition.
AntiGonna's porn is a mixture of horror and porn genres. They often have violence, fear, blood. They do not excite at all, but rather repel and frighten. Multi-exposure is also important in porn horrors: shots with raw meat, blood, and sharp objects are often superimposed on shots with the human body.
Sexuality appeared in the artist's work even before horror porn. AntiGonna says that the topic of corporeality has interested her since childhood. In her works she portrayed love, but instead of romance, something animal, bloody came out. She says she was inspired by the ancient myths and works of Francis Bacon and Pablo Picasso.
Artists began to work with porn as a critical medium in the 1970s, when feminist art flourished in the West. Back then it was important for artists to show that hierarchical structures in culture and society could and should be broken. From that feminist and activist porn emerged.
"Our porn is very one-sided," says AntiGonna. "Meanwhile, there are art porn festivals abroad. They show, instead, political art related to ecology, human rights, history, protest, acceptance. You can watch these movies on TV."
AntiGonna has released more than ten films. They were shown at the Vienna Porn Festival, at queer festivals in Belgium, Israel, the United States, Germany, and Poland, and have only recently been noticed in Ukraine. Finding someone to film horror was not easy. According to the director and close friend Oksana Kazmina, at first she thought about filming porn horror. She was not familiar with AntiGonna, but she liked the idea of the new genre.
Kazmina read the script, was shocked, but said that the director of horror porn must be the artist herself: that is, only she knows how to preserve the originality of the story. The artist met Andriy Boyko, a photographer and cameraman for later horror porn, while filming for his Second-Hand Generation project. She is the star of many of his photographs.
The role of empathy
The photo in which AntiGonna inserts a knife into her vagina embodies the artist's overall work. That is, the image symbolizes the fact that we often commit violence against ourselves without even realizing it.
"In both horror and other works, I wanted to convey that the body should not be so important in our society, culture, relationships," says AntiGonna. "It is often through bodies and outer shells that violence occurs." In the artist's work you can see that the body turns into something disgusting, so that you stop paying attention to it. So, AntiGonna is often accused of promoting violence.
"But how is this possible if I myself am a victim and have experienced it?" she asks. "In 2012, I was raped in Odesa. I reported it to the police, and everything was proven, the accused was found, but the case did not move forward in any way. It seems that they just did not want to do anything about it. The case remained open. My offenders were not punished. I am often told that I support violence, but actually I demonstrate it. I show what happens in real life."
The artist emphasizes how often victims of violence do not recognize themselves as such. They normalize the situation in their head, dissociate from it or believe that they are to blame for what happened. And sometimes they even commit violence against others.
AntiGonna invented the horror porn scenes herself, and the characters were often played by her friends or acquaintances. They could improvise during the filming. Oksana Kazmina, who participated in one of the series, believes that horror porn has had a therapeutic effect for participants.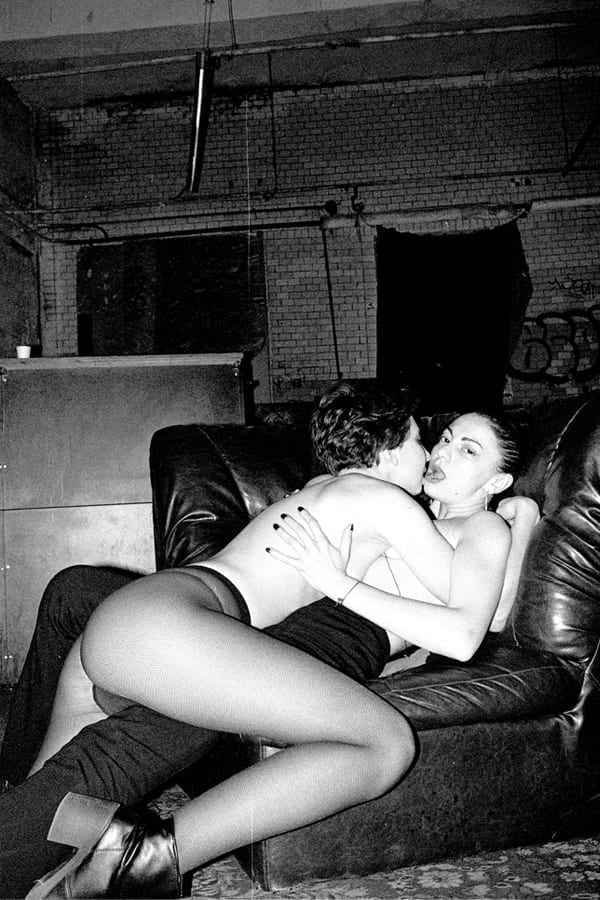 "I am very empathetic and really feel people's emotions, so during the filming I would sense what this person wanted to do, and then tell them how to act," says the artist. "Several times after horror porn I was told, 'That's it. I never want to fuck again'. This project is not a call for asexuality, but to some extent it is an attempt to get out of the flesh and talk about how violence can put pressure on a person's psyche and affect his or her life."
Violence as a part of life
Andriy Boyko found tapes for filming horror porn at flea markets, and they often contained recordings of weddings or birthdays. The artist specifically leaves them in the films and hints that violence is the same part of ordinary life that exists in the background of holidays or special occasions. The same thoughts arise, for example, when viewing the work of Mykyta Kadan's "Procedural Room", which is included in the collection of the National Art Museum of Ukraine: emotionless drawings of torture, depicted on plates. Only Kadan is talking about police violence, and AntiGonna is talking about gender-based violence.
On Instagram, the artist received a lot of feedback on her horror porn. It was mostly written by young people who saw the series "Infinite History of Illness. SVOYKA" at the Pinchuk Art Center. Many, she says, perceived the works not as something shameful, erotic or lewd, but as a story of violence, horror and fear. Although at first the display of works raised questions; there were many controversial visual moments in the video, where, for example, sexual intercourse was shown in close-ups. This is prohibited by the laws of Ukraine. Therefore, you can only see an edited version at the Pinchuk Art Center. In Lithuania, meanwhile, at the exhibition of modern Ukrainian photography "Love, Loss, Fury" (we wrote about it here) the author's original versions were exhibited. But the artist insists that the matter is not in the readiness of society to view such works, but in the laws themselves.
"The people who will see my work are adults," she says. "That is, they must first make the conscious decision to visit the art exhibition. In the gallery itself, they become uncomfortable. They feel emotions in themselves: violence is bad, it is death, it is the destruction of body and personality, pain, trauma. Yes, my video is theatrical, but it has no aesthetic beauty. "
The female body on the screen
Oksana Kazmina is shooting a documentary called "Underwater" about the artist. Kazmina, according to AntiGonna, knows her best of all. Underwater is a trilogy about violence; the traumatic experience of AntiGonna, Kazmina and other artists.
"The female body on the screen has almost always been sexualized, fetishized, and the film is hierarchical in itself – it has a distribution of roles, everything is subordinated to the director, and so on," says Kazmina. "I'm interested in turning the movie into a 'network', so this film turns into an art project: I become the fourth heroine and direct the camera at myself. "
Oksana Kazmina considers AntiGonna's horror porn a "video painting".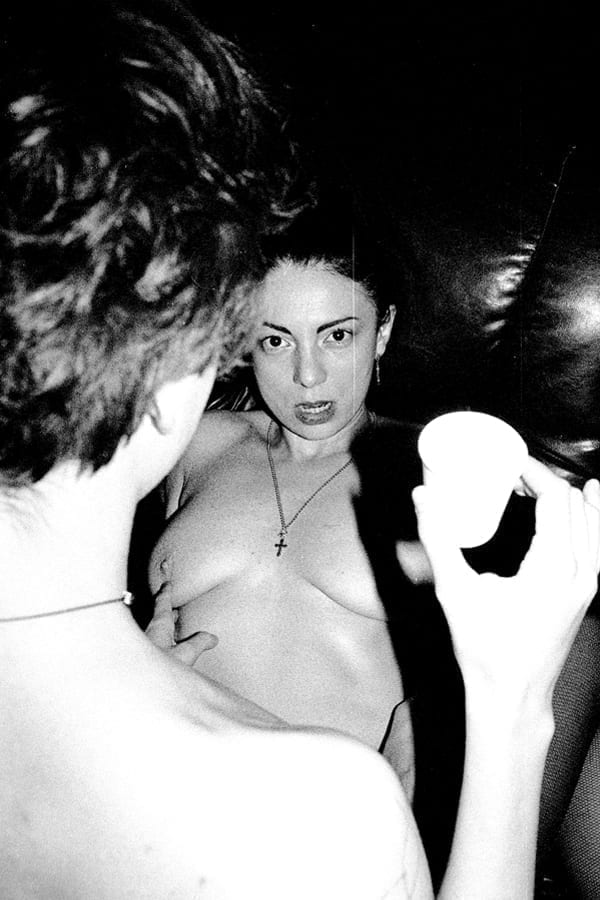 "She works with video as a plastic material, she uses it to create emotion, often this emotion is fear. It is the main task of her work to evoke emotion, and not to create a specific narrative," she explains.
AntiGonna does not stop at horror porn. Recently, she participated in the projects "Isolation" and "Coming out of Isolation. 2.0" at Kyiv Pride. Its task is to use art to talk about LGBT and different gender identities and to promote tolerance in society. This year, five artists – AntiGonna, Yevhen Korshunov, Yana Bachynska, Olena Siyatovska, Vitaliy Gavura – have created short films that can be watched for free on Takflix.
AntiGonna was inspired by the text of Mykyta Kadan and made a film about him; in the film the artist cuts his face and body, injures himself. Then he goes to the club in a woman's dress – a place where there seems to be complete freedom and mutual understanding. But the hero faces violence here as well – he watches and feels it. "I was deeply impressed by Mykyta's story because I don't like injustice. It must always be punished, and when that doesn't happen, it thrives. I'm not a policeman or a judge – and I can only change something with my work," says the artist.
"Once after a film shoot I was asked: AntiGonna, aren't you ashamed at all? I replied that of course I was ashamed. But as long as I am ashamed in silence, I will not accomplish anything and will not open up in any way."
Translated by Kate Garcia