Doctor Grandma
An ophthalmologist has been working at the Institute of Ophthalmology for fifty years – a Zaborona photostory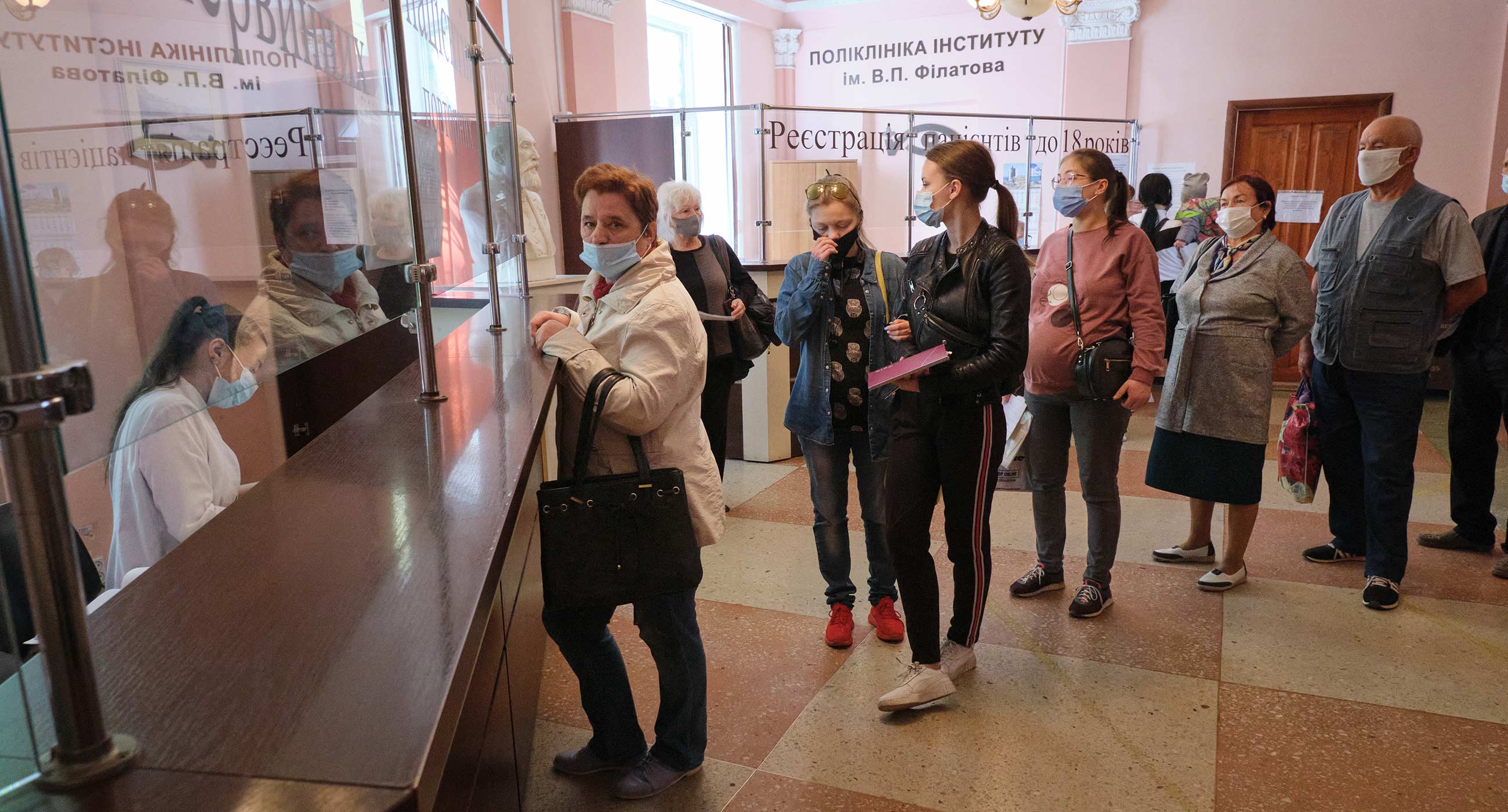 Vera Serdyuchenko has been working at the Filatov Institute of Ophthalmology in Odessa since 1969. This, perhaps, is the most authoritative scientific institute in Ukraine, and a thousand children and adults pass through its halls annually, all with various vision problems.

Icelandic photographic Óskar Hallgrímsson, exclusively for Zaborona, has documented a few of the working days in the life of Vera Serdyuchenko – and the entire world of science that is typically inaccessible to laypeople. He was amazed by the fact that this 82 year old woman, despite the threats of the coronavirus, continues to see dozens of patients every day. She earns only about $200 a month for her work – including allowances for seniority and her academic degree. She buys the single-use masks and gloves, necessary for protection from the coronavirus, like the rest of her colleagues at the institute – out of her own pocket.

Most of the professor's patients are children with binocular vision dysfunctions. Professor Serdyuchenko says that she can't abandon her patients, which is why she hasn't yet retired, but instead continues to work from early morning to late evening at her institute.
Every morning, Professor Vera Serdyuchenko walks the 200 meters from her home to the bus station and waits for the minibus that will take her to work.
The morning minibuses are always packed. And now, in the thick of the pandemic, people of Vera Serdyuchenko's age need to avoid throngs of people – it could be very dangerous for her life. But that doesn't stop her.

The main building of the Filatov Institute was built in 1936, and is still the center of ophthalmology in Ukraine. During the Soviet Union, there were only two such places in the entire country – the second is located in Moscow.
Doctor of Medicine, Senior Researcher, ophthalmologist of the highest category, as well as my wife's grandmother – Dr. Vera Serdyuchenko.
Most of Professor Serdyuchenko's patients are children with binocular vision dysfunctions. Sometimes the children need support from a plush rabbit, in order to look in the right direction.
Some of the instruments and gadgets used evolved with the development of digital technology, while others haven't – yet continue to fulfill their roles with excellence. All that's needed for this test is a lamp and a mirror, and, regardless of its simplicity, the test's accuracy is still high.
The territory of the Filatov Institute is well-kept and buried in flowers and greenery. Here, patients can find a quiet spot to recover. Professor Serdyuchenko poses for a quick portrait under a green arch on the street, which leads to a neighboring building.
Vera Serdyuchenko explains how one of her gadgets works. She uses it to accurately diagnose the level of severity of binocular vision dysfunction in her patients. She places the first image into one side of the equipment, and the second on the other. Then she moves them closer or further away, until the patient can see a cat with eyes and a tail.
This machine was made in the 1950s, and is still in use. And it still works perfectly.

Modern tools sit next to a 70 year old piece of equipment. They're both actively used in the institute and provide very accurate readings.
This ophthalmological institute is the only one of its kind in Ukraine – it accepts patients from any country, and often from neighboring ones who lack access to these sorts of specific services.
Женщина выздоравливает после операции по удалению опухоли из глаза.
The head of the oncology department, Doctor Anatoliy Maletskiy, demonstrates an x-ray of a tumor he recently removed from the eye of a woman sitting in an armchair behind him.
Пациенты и медсестра в онкологическом отделении.
Doctor Anatoliy Maletskiy shows a room for patients. He remade it from an old office which, it seems, no one was using. The room has its own shower and other comforts.
A corridor connects the old and new parts of the Filatov Institute building. It's decorated with greenery and flowers, and speakers play nature sounds in order to make it pleasant for walks.
Доктор Бабушка. Офтальмологиня полвека работает в Институте офтальмологии — фотоистория Забороны
On the wall of Professor Vera Serdyuchenko's office hangs a hand-drawn scale. It's used for measuring binocular vision. The scale assists in measuring the severity of vision impairment. This picture was drawn by the daughter of the artist, Elena Serdyuchenko.
Even at 82, it's hard to keep up with Vera Serdyuchenko. She runs around the hospital for 8 to 9 hours a day examining patients, and then goes home and continues to research and prepare for medical conferences.
Óskar Hallgrímsson is a photographer and artist, who for the past six years has focused on shoots in Asia. He's especially focused on drawing attention to pressing social issues. He's published a photobook looking into sex work in Thailand, worked on a project covering migrants from Pakistan and India who live in Dubai, as well as on a project look at the fight against poverty in the slums of Mumbai. More of his work can be found on his site.