Assisted living refers to situations where people with disabilities, especially those with cognitive disabilities, live in a house with the help of assistants. In Ukraine, this basic social service is guaranteed by the government. However, there are no adequate mechanisms to provide assisted living, and it's only thanks to the efforts of advocates and charitable organizations that these types of homes currently exist. Zaborona journalist Ekaterina Moskalyuk explains how they operate.
Living as an adult
"If you asked what words I associate with assisted living for adults with disabilities, I'd say dignity. Every person has the right to a dignified life, and this right must be secured," said Yuliya Aronova, head of the community organization Spread Wings, which helps parents of children with disabilities process and move forward. Reality can't be changed and the children need love. The children will grow up and they will need a home — a comfortable home.
I spoke with Yuliya over Skype. On the screen, I could see the corner of her kitchen, where two children ran in for ice cream: Luka and his older sister Diana. Diana is ten years old and studies in the fourth grade. She also has Down Syndrome. According to Yuliya, 10 years ago, the question of inclusive education in schools and preschools was new. Today, it's become the question of assisted living. "Unfortunately, there's no clear data on the number of people with disabilities who can't live on their own. But there are thousands of them. On top of this, a new generation is growing up, and they'll soon be left without parents or guardians," soon Yuliya.
Together with other parents of children with disabilities, Yuliya Aronova launched a group on Facebook under the hashtag #AssistedLivingFacility, where mothers could talk about their children and share their experiences. The posts were emotional. In a way, they were droplets that, together, could create a wave to change a frightening future. In general, no one wanted to think about it. An assisted living facility is an alternative to mental hospitals, specialized boarding schools, and retirement homes. Every resident lives independently to the best of their abilities and controls their own lives. Without this control, what's the point of being an adult? People with disabilities aren't walled off from society and can communicate, work, and even help those around them. Others can learn a culture of acceptance. These are the goals, advantages, and philosophy of assisted living.
"Unfortunately, there's no clear data on the number of people with disabilities who can't live on their own. But there are thousands of them. On top of this, a new generation is growing up, and they'll soon be left without parents or guardians".

Yuliya Aronova, Head of the community organization Spread Wings
"The house in Lviv will be unique in the fact that it will be a communal house. It's risky when the only source of funding is charity. Ideally, the funding should be guaranteed by the government but in our case- it's the community" Yuliya explained. If the assisted living facility on 39 Pasechnaya Street is successful, there's a chance that other communities will support the initiative. It's important that these facilities are in every amalgamated hromada. After all, they'll be small- a maximum of five people- but the people with disabilities will have the support of each other and their assistants.
The city council gave the organization the building of a former children's clinic called "Spring," which needed to be cleaned and renovated. "I really liked it. I won't talk about the energy that I felt. I'll just say that it's a good place," Yuliya said. However, 20 million Hryvna ($720,000) is needed to renovate the three-story space. About three million ($108,000), which the organizers expect from the Lviv city budget, will only cover the basic renovations.
About 20 adults with disabilities and their assistants can live in the facility on Pasechnaya Street. According to the policies of assisted living, a person who does not need around the clock assistance can live in a room alone. If necessary, a social worker will help them. The facility has both single and double rooms. Depending on the type of residents, different specialists will be asked to help. For example, physical therapists, behavioral therapists, psychologists, and other specialists will all be involved. Judicial experts are also included in that list, since, according to Yuliya, difficult situations often arise. "In Lviv, they're prepping all of the specialists mentioned. It's a question of whether they'll come and work in the communal institutions. We'll see that it's impossible to get rid of problems with staff. However, that's a question of human nature, it's everywhere, and especially in the social sphere," said Aronova.
The idea of assisted living isn't new in Lviv. The service is already provided by the Emaus Center, the organization L'Arche-Kovcheh, and several monasteries. According to Yuliya, it'll be necessary to cooperate and share experiences. "One great part of the new project is the inclusive community center — it'll be connected to the building by a glass hallway. It'll be an open environment for communication and interaction with the community. On Pasechnaya street, there are many dorms for the students at Franko University, and also a lot of apartment buildings. It's a really vibrant area. The assisted living facility won't be an island set apart with its residents isolated from the world," Yuliya said.
Life among the people
The goal of assisted living is to integrate people with disabilities into society as much as possible, placing them in apartments or houses on city streets. Isolation isn't the answer. Society often ignores those with disabilities, usually out of ignorance of how to behave or what to say. "I don't understand, therefore I'm afraid," people think. The solution is for people with disabilities to be integrated into preschools, schools, and society in general.
Yuliya recalled how, when Diana was a month and a half, friends recommended the children's center. "It was a new world, with accepting professionals who were interested in our opinion. Kindness, attention, humanity, and professionalism are all very important at the beginning of a family's journey with a child with disabilities. Early intervention determines the child's path. We were lucky," Yuliya said. At the clinic, Yuliya met other parents. This was an important component of early intervention, as parents could share their experiences and their optimism.
Society often ignores those with disabilities, usually out of ignorance of how to behave or what to say.
Now, Yuliya answers questions from parents in Lviv Oblast, where early intervention services are nonexistent. She hears a lot of tragic stories: parents with nowhere to go for advice, and no one to ask about their feelings. A mother, who takes care of her child by herself, won't even allow herself to think of a better life. Early intervention isn't only for the child, but also for the parents. "Every family walks a spiral of acceptance. How the mother and father overcome it depends on the support of specialists. If the parents speak with a psychologist, they can at least understand what's happening to them. If no one explains anything, then the mom will blame herself and a loop will begin, and it just leads to dead ends."
Every day, Yuliya fields phone calls from parents and consults them, leading them to the necessary specialists. She says that parents of newborns ask whether their children will walk or talk, whether their partner will stay with them, whether they should have other children, and how to deal with other people. It's important that the parents hear about the future and understand what awaits them. The older the child, the more the questions differ. In her conversations with these parents, Yuliya not only counsels others, but also learns more for herself, especially when talking to parents of children older than Diana about the "fountains and fireworks" of teenage years. Yuliya often shares her own experiences with these parents.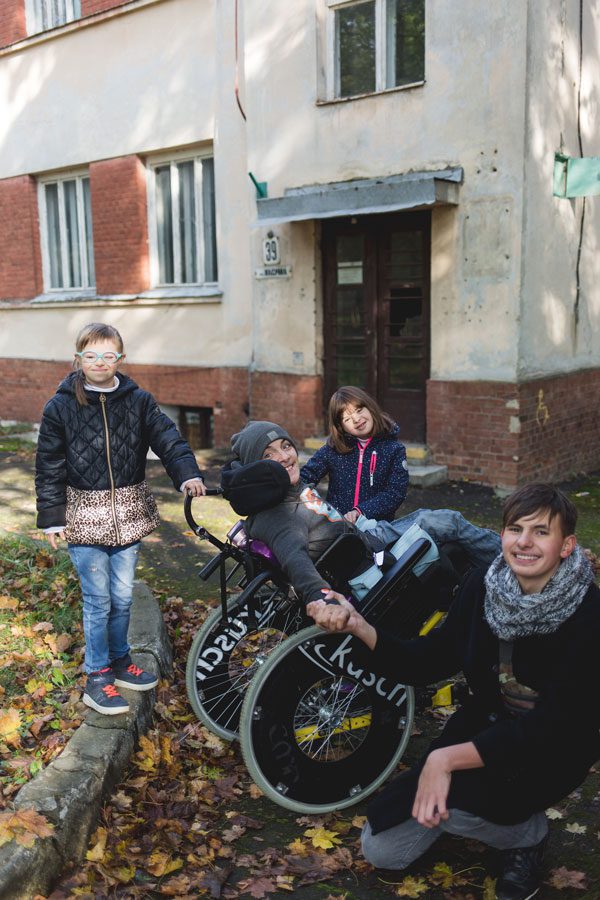 Diana attended a non-inclusive preschool, and at age seven and a half, she entered an inclusive class at School No. 50 in Lviv. For six months before beginning her studies, Yuliya and Diana attended adaptation classes for first-year students. "The homeroom teacher asked whether I could talk about Diana and talk with the parents of her future classmates. Of course I agreed. The parents didn't ask any questions, but I saw their looks of surprise. It was fine. I told them about Down Syndrome: where it comes from and what it means. No one has the right to interfere with another's education. That's the number one rule. As a result, my communication with the parents has gotten better. Now, it's easy to talk to them." Yuliya stresses that open conversation has allowed them to avoid personal misunderstandings and conflicts. However, the mothers and fathers of the children can't explain the situation fully. The school should provide guides for the children, especially a social worker, psychologist, or a teacher.
At first, Diana's class had sixteen children without special needs, and two with them. Thanks to the instructors, Diana and Roma increased their levels of interaction with their classmates. A teacher's assistant told Yuliya that Diana has friends who she can play with and share secrets — people she can goof off with. "When Diana started school, inclusion was a new concept, there were a lot of interviews and footage taken. Once, a group of reporters came to the school and decided to film Diana reading. At that time, like all kids that age, Diana couldn't fully read yet but she could read some whole words. I laid out her cards in front of her, and she read as her classmates watched the whole process. Looks of delight appeared on their faces. One yelled out to another, you still can't read but she already can! It was quite touching," Yuliya said. She added that Diana learned to read properly in third grade.
Now, Diana wants to do everything herself, and when she needs help, she asks. Yuliya recalled a time when one of Diana's classmates ran up to the board and erased an incorrect answer for Diana, replacing it with the correct one. She hadn't wanted the teacher to see Diana's mistake. Those moments show the effectiveness of inclusivity.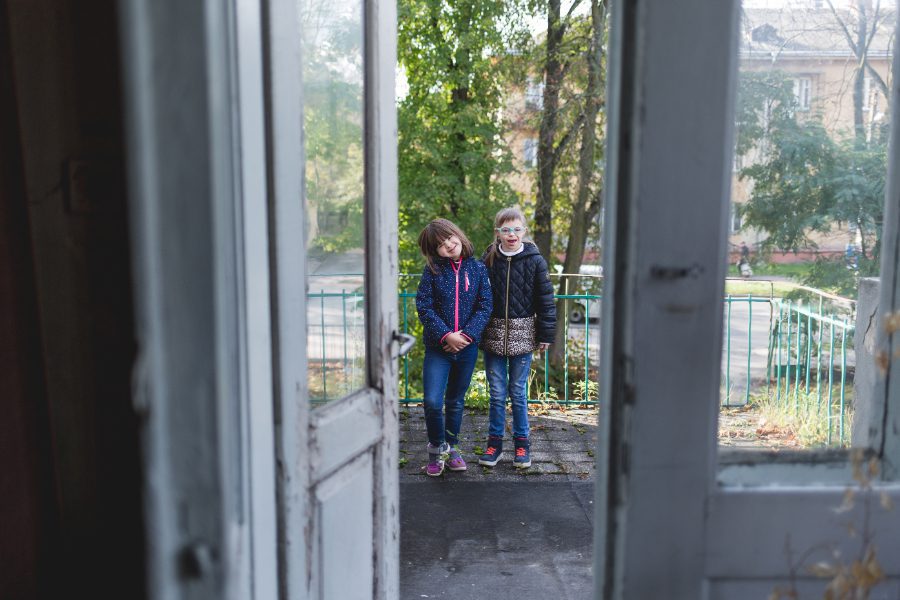 "Diana began to notice her otherness towards the end of preschool. At that point, we began to talk to her about it. It's possible that thanks to our talks, it was easier for her to accept herself and cover up her failures with her strengths. Actually, there are things that she does amazingly, even better than her brother Luka. There are video games that she gets through faster, and Luka, of course, can't get over this," Yuliya smiled. "When Diana can't do something, she gets disappointed. She starts to get nervous. Those are the times when we talk about her strengths. I explain that her father and I also can't do everything. We're changing her thought process so that she realizes it's fine when she can't do something."
A life worth living
On January 1st 2020, a new law titled "Concerning Social Services" came into effect. The law defines the basic organizational and legal framework for the provision of social services, including assisted living. So far, the government has provided housing for adults with disabilities, especially those with developmental disabilities, in retirement homes and psychiatric hospitals. Assisted living has been organized by advocates, social organizations, and monasteries. In other words, assisted living, a basic social service, has never existed on a legal level in Ukraine. Today, there are standards for the provision of assisted living, but there aren't any proven mechanisms for its implementation yet.
Yuliya Aronova says that assisted living is a new concept for many regions of Ukraine. With that in mind, it's important to create a good model for assisted living facilities, as this could make it easier to create more in the future. For example, many are already coming to the center, to learn more about the experience of creating a daycare for children with special needs. "The assisted living facility is only possible with the cooperation of Lviv and the NGO sector. It's important to not only talk about the provision of social services, but to care about the quality as well," Yuliya said.
Spread Wings received a grant to develop recommendations for preparing children with special educational needs for school. In order for the children to adapt easier, parents need to prepare them for school, and the teachers must conduct classes. There's still work to be done with parents, caretakers, and seminars and implementations in preschools. Yuliya says that it's important to listen to the opinions of teachers and their assistants about the problems that arise with children with special needs during the first years of their education.
It's important to not only talk about the provision of social services, but to care about the quality as well.

Yuliya Aronova, Head of the community organization Spread Wings
"This is a project which I've been living in even though my daughter is already in fourth grade. I just feel it's needed. Every week, mothers call me with questions about inclusive education. The adaptation period is equally difficult for children, parents, and teachers. When a child with special needs appears in a classroom, additional challenges appear with them. It's worse when there's no communication between the teachers and parents, or between the classmates. The child needs to be taught how to get dressed independently, put on shoes, and go to the bathroom. That's all preparation for school. In the first year, it's not about the achievement of academic goals, it's about skills. If a child with special needs isn't integrated into the class, that's not inclusion." Yuliya hopes that the preparation of preschoolers will be the first link in a chain from preschool to school to a professional education. If the children can and want to continue their education, they should be given the chance.
Spread Wings works with the Lviv cluster of educational development and creativity. Together, they have initiated classes on tolerance. Yuliya says that it's a working title that she doesn't like, but it gets the point across. The classes are actually discussions about otherness, with films and video games to supplement the conversations. The conversations detail how people are different from one another but, most importantly, they are still people. For example, the children need to be told that kids with Down Syndrome aren't "poor, sick people who should be pitied" — they're just children.
"Visually, Down Syndrome is quite typical. Diana and Roman are quite different, of course, but they have certain similarities. It's logical that children ask whether they're brother and sister, and why they have an assistant. Children need to have everything explained to them so they don't form incorrect opinions about the characteristics of people. That's why we need to conduct classes on tolerance." Yuliya explained that the teacher, teacher's assistant, school psychologist, or school counselor can all answer children's questions.
Yuliya Aronova and Yuliya Boiko, the director of the Emaus Center, designed a curriculum for a course on tolerance. However, these courses aren't mandatory, and as a result, they're not provided in many schools. "Usually, parents turn to us when everything's already on fire and the conflict is at its peak. It all begins from inadequate communication among adults, which trickles down to the children. The children aren't told anything, so they don't know how to behave. Unfortunately, this happens often."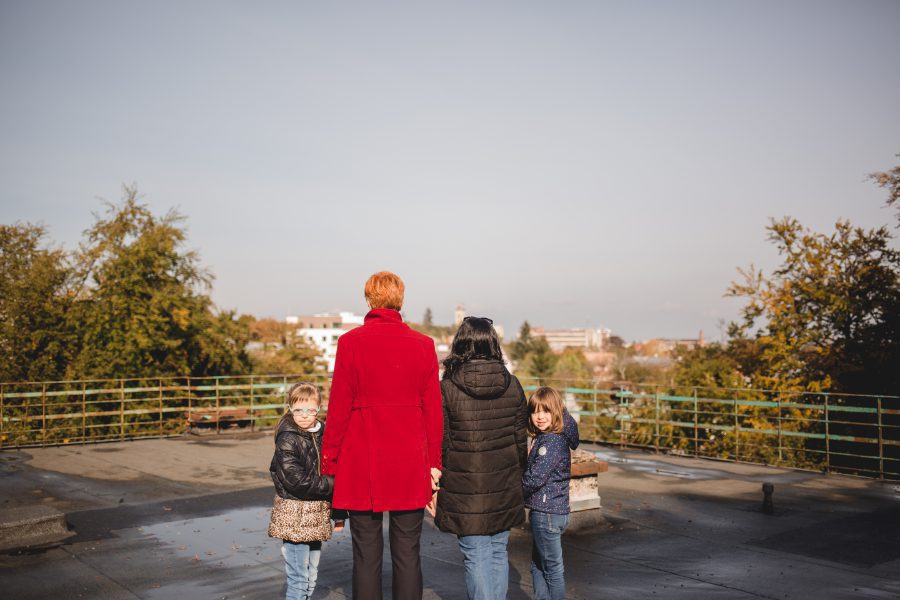 Yuliya says she's optimistic about the future. Over the last ten years, there have been many positive changes in Ukrainian society. For example, new shopping centers are built with elevators and ramps, inclusive classes are being introduced into schools, and society in general is becoming more inclusive. "In my childhood, there were no people with Down Syndrome around at all. The first person with Down Syndrome I ever met was my daughter Diana. The children who study with her in school are growing up with an understanding that people are different and that's alright." In Ukraine, there are a lot of good examples of people with mental disabilities being employed: the Emaus Organization, the Ukrainian Catholic University, the supermarket chain Ashan, and others all employ people with disabilities. Society can see them now.
Recently, Yuliya went on a business trip to Israel. In Jerusalem, she and her colleges were invited to a teachers' college, where the instructors were people with disabilities. Yuliya said that in the college, people with Down Syndrome were studying to be assistants at preschools. "The work of an assistant relies on your emotional constitution. Emotional intelligence is a mark of your ability to communicate, your skills to recognize your own emotions and the feelings of others. We generally don't talk about emotional intelligence. It would be great if these specialists worked in our preschools. An educator is an authority for the children. An educator in a wheelchair is one as well. The question of assisted living shouldn't be seen as peculiar, but as the norm for society. I know this is far in the future, but I believe it's possible."
Translated by Gabriel Sheir from Respond Crisis Translation