On August 3, the founder of the NGO Belarus House in Ukraine, Vitaly Shishov, was found hanged in a park near his apartment. Law enforcement is considering a number of variants for Shishov's death – including murder masked as suicide. Many people are convinced that Shishov was killed on the orders of Belarusian dictator Alexander Lukashenko as part of a program to purge opposition activists to his regime. Yet, not much as been said about Belarus House itself – including about the fact that the organization has received assistance from well-known Russian and Belarusian neo-Nazi Sergiy Korotkikh. Zaborona has spoken to both members of Belarus House, and opponents of the organization, most of whom have preferred to remain anonymous. They explained what Belarus House does, who it's supported by, its financing, and what will happen with the organization in the future.
Belarusian activism in Ukraine
Alexander Lukashenko falsified the results of the Belarusian presidential election in summer of 2020 and has illegally seized power in the country. Hundreds of thousands of Belarusians took to the streets to protest his regime: they were met with harsh repressions, prison sentences for protesters, and even murders of activists. As a result, many Belarusians have fled the country, including to Ukraine.
A protest following the announcement of the results of the presidential election in Belarus, Minsk.
Фото: SERGEI GAPON / AFP via Getty Images
Ukraine had already had organizations that worked on issues facing the Belarusian diaspora in Ukraine. These, for example, included the organizations Razam (Together) and Syabriy (Friends). The Belarusian Center Syabriy was founded in February 2019, after several years of the initiative's informal existence. According to Syabriy head Galina Sorochik, the core of the movement is composed of Belarusian citizens who volunteered or fought in eastern Ukraine. Currently, the organization holds artistic demonstrations and continues to help the Ukrainian army in the Donbas.
The Movement for Solidarity, Razam, was registered in July of that same year, 2019, though according to movement co-founder Elena Tolstoy, it's been actively working in Ukraine for over a decade. The movement holds solidarity actions in Lviv and Kyiv, as well as holds round tables with the participation of public figures from Belarus and Ukraine. Last year, Razam actively began helping political refugees from Belarus – at that time, the organization was almost the only one that had an official registered status in Ukraine.
However, most Belarusian organizations in Ukraine appeared only after or not long before presidential elections in Belarus. Starting in July 2020, for example, the organization Belarus Information Center began its work. It was first meant to play a purely informational role – to talk about the direction of presidential elections in Belarus. It's continued to work, however, and now provides information about events in Belarus and talks about the life of the Belarusian diaspora in Ukraine.
In early August last year, the human-rights focused Free Belarus Center was also founded in Kyiv. It provides humanitarian support to people forced to flee from Belarus due to political persecution. The FBC is coordinated by human rights defender Palina Brodik – she had previously worked with the Ukrainian human-right organization Center for Civil Liberties. Many Belarusian emigres believe that the FBC, in particular, has provided foundational aid for Belarusians in Ukraine. Zaborona has previously reported on a pair of Belarusians who have received help from the FBC regarding their documents.
What is Belarus House in Ukraine?
At the end of summer in 2020, Vitaly Shishov arrived in Ukraine as part of the wave of Belarusians fleeing the Lukashenko regime. He began actively taking part in demonstrations held in Kyiv in support of Belarusians, and at one of them he met Rodion Batulin – according to Batulin's comments to Zaborona. Batulin is an MMA fighter from Latvia who has been living in Ukraine for several years. Together, the two decided to create an initiative that would help Belarusian refugees in Ukraine.
This idea proved popular, and found more supporters. In October 2020, the organization Belarus House in Ukraine (BDU) was founded – informally at first, as a Telegram channel. Belarus House participants organized solidarity demonstrations with the Belarusian people – this was their main activity. Belarus House also rented a hostel where they would host refugees from Lukashenko's regime, though that lasted only about a month.
A few other organizations are connected to Belarus House. The organization Belarusian Alternative, and the charitable fund Belarusian Diaspora in Ukraine are both registered to Batulin's name. They are not actively working. Another initiative – the charitable fund Rodniy Kut – is coordinated by Belarus House member Yuriy Shchuchko. This fund is meant to help Belarusian migrants find housing, and actively cooperates with Belarus House.
A memorial service in honor of Roman Bondarenko, who was murdered by security forces in Minsk, held near the Belarusian embassy in Kyiv. Фото: SERGEI SUPINSKY / AFP via Getty Images
Belarus House's first notable demonstration was held in November 2020. AT at that time, the neo-Nazi Korotkikh (also known as Malyuta and Botsman) installed a memorial to slain Belarusian protesters at the Belarusian embassy in Kyiv. This was the first public demonstration featuring activists who called themselves members of Belarus House in Ukraine.
Officially, Belarus House was registered after the demonstration – on December 7 of that year. The co-founders were listed as Batulin and Shishov, and Shishov was named as the director of the organization. Sergiy Korotkikh had no official role in the organization, according to documents. Yet Korotkikh, and Batulin have both confirmed to Zaborona that Korotkikh helped the organization.
"The organization has a horizontal structure," Batulin tells Zaborona, "The organization's leaders are in actuality the talking heads, media people. Everything depends on the direction in which we're working: we have activists, we have guys that work in security, we have those who do 'inside work' – these are people who are in Belarus and work in punitive agencies."
Batulin insists that he doesn't keep a list of members for Belarus House for their own security. But a "legalization form" can still be found on the Belarus House Telegram channel – a Google form which gathers a large amount of personal data: full names, dates of birth, passport data, even information about prior convictions, religious beliefs, political views, all the way to participation in other civil organizations.
This form in the Belarus House chat is explained as seeking "help from people who are not apathetic to the situation in Belarus. The initiative's author – Sergiy Korotkikh." No reason is given for gathering such a wide range of information, however. Anonymous sources within the Belarusian opposition have told Zaborona that several people who filled out the form have been blackmailed by Belarus House management, demanding that they support some chosen political demonstrations.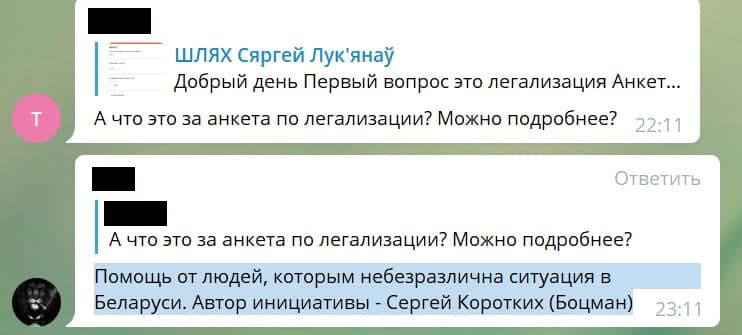 Belarus House has also, reportedly, helped people with their documents and housing. However, Free Belarus Center coordinator Palina Brodik told Zaborona that many people who have turned to Belarus House for help were directed to other organizations, including the FBC. At the same time, these people were offered help in getting their residency documents – for money, according to Zaborona's anonymous sources in the Belarusian opposition, the cost of which could reach several thousand dollars. Batulin denied this information in a comment to Zaborona.
"I don't have any acquaintances there [in the State Migration Service], which would solve something. We, as an NGO, could not have given people volunteer-based residency permits from our organization. And we immediately went away from this, in order to not commercialize a non-commercial organization. We were in contact with jurists that I know. They helped volunteering foreigners, and we spoke with them about getting below market prices," Batulin tells Zaborona.
In addition, Batulin and Korotkikh both admit to helping Belarus House head Shishov get residency documents.
"Most likely, Korotkikh didn't help anyone else to register," says Batulin.
The Belarus House Telegram channel sometimes features ads from the SvaStone clothing brand. SvaStone, according to one of its founders, has a right-nationalist ideology. Yet this didn't hinder them in selling their clothing in Russia itself. Batulin, in fact, has even featured in a SvaStone advertisement.
"The far-rightness of this brand is a huge cliche. I know the people who were there at the origins of the creation of the SvaStone brand. They were the ones who released a t-shirt with the Pahonia [the state crest of Belarus] on it, at their own initiative. We asked the guys to just make more t-shirts and advertised them in Belarus House for a discount. The idea was to popularize national Belarusian symbols. And, with the help of the BDU symbol there, to popularize Belarus House in Ukraine," says Batulin.
Batulin also claims that Belarus House was financed by its own members.
Rodion Batulin in a SvaStone t-shirt / Facebook
Informal "assistance" from Korotkikh
Rodion Batulin says that Korotkikh has helped Belarus House "at his request": "When the guys gathered for a demonstration during the winter, we needed some trivial help. To get warm, drink tea. Most of these needs were met by Sergiy Korotkikh," Batulin comments.
Korotkikh was born in Russia, but then moved to Belarus. In Belarus, he served in the army and spent two years at the KGB school there. After that, Korotkikh returned to Russia, where he founded the National-Socialist Society (NSO). The NSO worked on popularizing the scientific-technical and cultural achievements of Nazi Germany, and prepared fighters for "race war."
Korotkikh was friends with well-known Russian neo-Nazi Maxim "Tesak" Martsinkevich. In 2010, the Supreme Court of the Russian Federation banned NSO from operating on Russian territory, and was branded as an 'extremist organization.' Russian security forces began to detain the organization's members, many of whom received prison sentences. However, the NSO's founder – Korotkikh – was not investigated.
In 2014, Korotkikh moved to Ukraine, where he fought as a scout in the Azov Battalion in the Donbas. Azov eventually was reorganized and merged with the National Guard, which falls under the purview of the Ministry of Internal Affairs. In December 2014, Korotkikh received Ukrainian citizenship directly from the hands of then-president Petro Poroshenko.
Petro Poroshenko hands over a Ukrainian citizen's passport to Sergiy Korotkikh, December 5, 2014.
Photo: Mikhail Palynchak / POOL / UNIAN
Once he received his passport, Korotkikh in May 2015 took the position of head of a new police division, guarding "objects of strategic value," a role he held until 2017. According to an asset declaration Korotkikh filed in 2015, he had bought two apartments in Kyiv, an L-39 Albatros tactical jet trainer, and had in total nearly a million dollars. Korotkikh also maintains good relations with the son of ex-minister Arsen Avakov, Oleksandr – information Korotkikh confirmed in an interview.
Zaborona published a dossier, written by the head of the Institute for National Politics, Ivan Beletskiy, containing these and other facts about Korotkikh in January 2021. After the dossier was published, Beletskiy was kidnapped and severely beaten. He told Zaborona that after his first kidnapping, he was again kidnapped on February 9. At that point, he was tortured – choked into unconsciousness and was beaten with pillows. His assailants demanded that he apologize for his publication against Korotkikh and his people, and to stop publicly talking about this topic. Beletskiy believes that Belarusians were recruited from Belarus House for raider seizures and criminal activities under the aegis of the Korotkikh.
Formal leadership
Many of our interlocutors from the Belarusian oppositionist sphere say that Vitaly Shishov wasn't a media person – that role in Belarus House was played by Rodion Batulin. It's not exactly clear when Batulin arrived in Ukraine and joined the Azov Battalion. But after 2019, Batulin became a visible person in Korotkikh's circle. During the presidential campaign in 2019, he attacked the bodyguards of then-president Poroshenko. This campaign against Poroshenko was, at the time, driven by the right-wing National Corps organization, rumoured to have links to Avakov. Batulin also participated in skirmishes against the far-right organization Honor – they conflicted with Korotkikh, even though they too spun off the Azov Battalion structure. Batulin was also present at the attack against the 'pride rave' held near the Office of the President in Kyiv near the end of July 2021. After Shishov's death, the Security Service of Ukraine (SBU) banned Batulin from entering Ukrainian territory for three years. The SBU's press service noted that he may pose a threat to Ukraine's national security, though the agency didn't expand on exactly what sort of threat Batulin poses.
Batulin told Zaborona that he's currently in Poland, but not permanently. He disagrees with the SBU ban, and believes it carries a political motive.
"No one is getting ready to let me in in connection with Vitaly's death and because of the fact that investigators will be learning towards the suicide version. The guys who participated in the search [for Shishov], the ones who have seen photographs, say that he was beaten, that his nose was broken. It's very strange for a suicide. [Shishov] was very open and would not have left life this way," Batulin says to Zaborona, though he has no explanation for why the SBU would find it easier not to let him into Ukraine in this case.
What will happen to Belarus House?
After Vitaly Shishov's death, and the ban on entry to Ukraine for Batulin, the organization has ended up without leadership. Batulin says that they plan to re-register or relaunch it.
"We'll be looking for people who will be publicly representing the organization. Even if no one can, I'll be doing that remotely. We'll somehow be helping Belarusians in Ukraine and other countries. At the moment, we're rebuilding our communication channels and we're ready to accept any support," Batulin stated.
A demonstration in remembrance of Vitaly Shishov near the Belarusian embassy in Kyiv. August 3, 2021. Photo: SERGEI SUPINSKY / AFP via Getty Images