"We're Dealing With F**King Bastards!" Diary from under Shelling in Severodonetsk. Week Six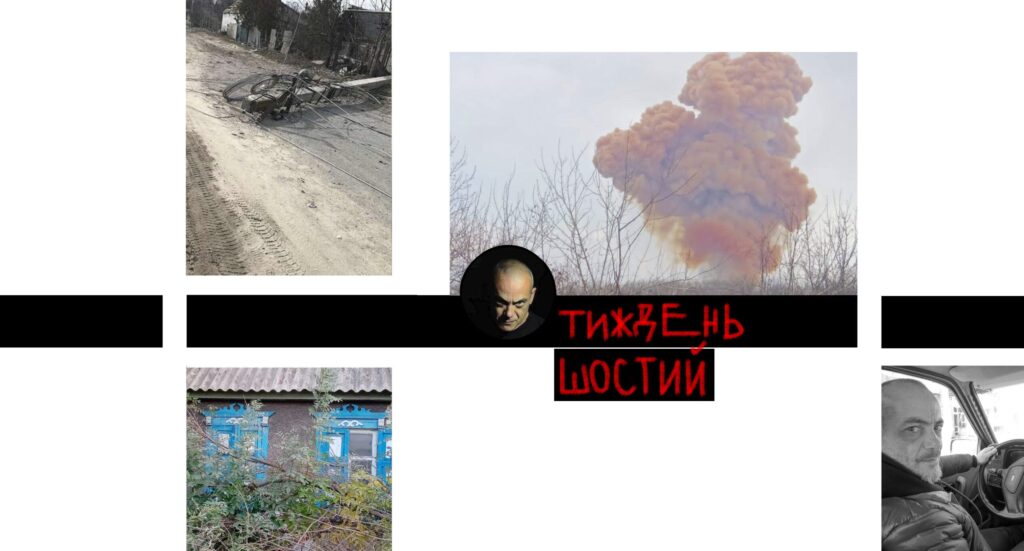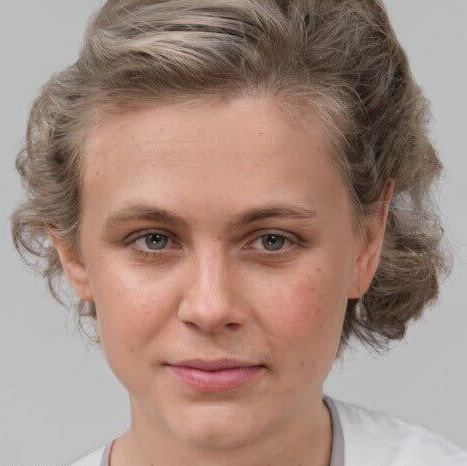 Until February 24, 2022, I was kind, I held festivals, rode a bicycle, and thought about innovations. Now I'm angry, writing from Severodonetsk, which is being shelled by the Nazis." This is a description of the Twitter page of Arif Bagirov, a 45-year-old local historian and a native of Severodonetsk. Before the war, he headed the Pruzhyna creative movement, was involved in the development of the town, and saved the Belgian heritage in the Luhansk region. Today, he is trying to survive by staying in his hometown, which is constantly bombarded, including with phosphorus bombs. All this time Bagirov has been writing down his life, thoughts, and chronicles of the shelling on Twitter. With the permission of the author, Zaborona publishes lines from his online diary. You can read the first, second, third, fourth, and fifth parts by the links.
1.04
1:31 Electricity is restored in Severodonetsk, glory to the heroic electricians! So, there will be some news. I'm sure they will be good. One is that the shelling subsided; it did not hit the old areas. This is what we have, for now, we are still standing!)))
7:54 Every morning in Severodonetsk is good if you found yourself not under the ruins))) And the inhabitants of the ruins, which the Russian Führer threw here to break everything, try to make the same environment in our town. They know how to destroy, but it will not help them. The days of the killer country are numbered – our task is to survive to look at it)))
8:49 We are attacked by aircraft, and fires burn again over the town. Russia can't but destroy, this is their central idea of ​​the nation. Killing themselves and their neighbors is a favorite pastime of Russcists, and we were destined to stop this forever…
9:50 Let Belgorod and all border cities become Mariupol, Kharkiv, or at least Severodonetsk. In the name of Justice, Amen!
14:31 A little lull here, the orcs are drinking for sure. April Fool's Day is celebrated as a national holiday. At least they will get drunk and get lost with their stolen carpets and TVs))))
18:31 "You can forgive a child who is afraid of the dark. The real tragedy of life is when an adult is afraid of the light." Plato
20:13 Looks like we have another forest fire. A huge glow to the east of Severodonetsk, is probably visible in half of the region. Yes, and this is not the first time for the town, we have less and less to lose, we hope that this is hell for Russcists in that fire…
22:16 The day passed restlessly, but it passed. It's too noisy now, but no one cares anymore… The smell of burning and a feeling of something serious is in the air. But we are ready for anything when we have to be at the epicenter of the war. God is with us, and so are the truth, and our guys. We are still standing, but we lie down. To sleep)))
2.04
8:48 Good morning in Severodonetsk, I hope in your cities too. It's sunny, warm, and quiet after the morning shelling. There is a strong understanding that spring is coming for a reason: it will warm everyone, comfort and everything will bloom. I think so)))))
15:10 Now it's relatively quiet, the water reaches the upper floors and there is electricity for a vacuum cleaner, rustling around the house. Well, war is not a reason to be untidy. I'll finish the house chores, eat and sit down to write – just wait))))
20:41 Ukraine is becoming a testing ground for the latest weapons, and it is now technologically advanced, our fighters will be its testers. They have already overtaken the Americans in the effectiveness of the use of Javelins, and it will be the same with other weapons. And dirty Russcists will become living targets)))
20:03 Artillery hit the town. The silence is over, in the shelters…
20:58 It seems the attack has subsided, no fires are visible. Drunken Vanya got lost on his tank for sure…
23:13 Well, today we have 2 out of 5 on a scale of anxiety.There is some damage in the town; I haven't heard about the victims, there was only one gun shelling in the afternoon. Now it's raining and it's quiet. Russians are dying somewhere, fulfilling the order of their Fuhrer and our soldiers help them in this because they are sensitive guys))))
3.04
8:06 Good morning, we are from Ukrainian Severodonetsk! We are fine. The morning passed without the usual cannonade. But it seems that there was shelling, and fire is visible. There is electricity, gas, and water, no matter how hard the Russians try to throw us back to the Stone Age. The town is still alive and believes that the terrible days are behind us))))
9:54 Russia is really a "gas station country", Russcists confirm it themselves. All their foreign policy has revolved around oil and gas manipulation, and now they are destroying our refining infrastructure. And they wildly rejoice it, stupid degenerates)))
13:46 As soon as the gas was given normal pressure, it immediately smelled like pastries))) And the artillery strikes are infrequent and sparse, you can do the housework. I'm preparing the bike, and oiling the parts, I'm sure it will be needed soon)))
16:29 Indeed, Nazis and Russcists cannot be compared. I heard stories of how the Nazis, entering the village, shot the Communists, took milk, and eggs left their representative and went on. Russians kill both old people and girls for fun. They should be zeroed off the face of the Earth…
18:17 Regarding Russians, the expression came to mind: "Don't take off masks from people – maybe these are muzzles". This war has forever exposed the clumsy face of this nation, and none of them will ever be considered human. This is now the mark of a half-slave non-human, an accomplice in the massacres…
22:36 Well, the second "decisive week" has passed, during which the non-humans have kinda taken Severodonetsk. How many such non-humans have died during this time, history is still silent, but definitely more than the townspeople. Although it is impossible to compare Ukrainian people and Russian devils.
And so we stand straight!
4.04
8:00 Severodonetsk woke up from a lazy mortar shelling, which had already subsided. With the conviction that this is the last difficult week in the short but glorious history of the town, we continue to stand, help each other, and believe in the victory of Ukrainian (and not only) weapons.
We are fine in general))))
13:12 I recalled a propaganda book from my Soviet childhood, I don't remember exactly what it was called, but there were heroic myths about all sorts of Suvorov's and the "miracle heroes". Straight heroic heroism like "die yourself, but save your friend." After Bucha, any Russian soldier is a child killer and a sadist. That's all…
20:16 "Those who choose the least evil to forget very quickly that they have chosen evil."
Hannah Arendt
20:19 The ordinary Russcism…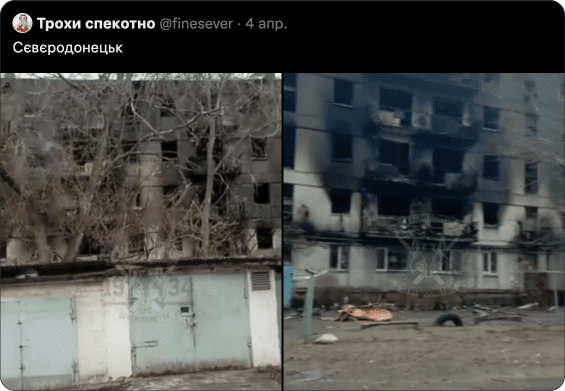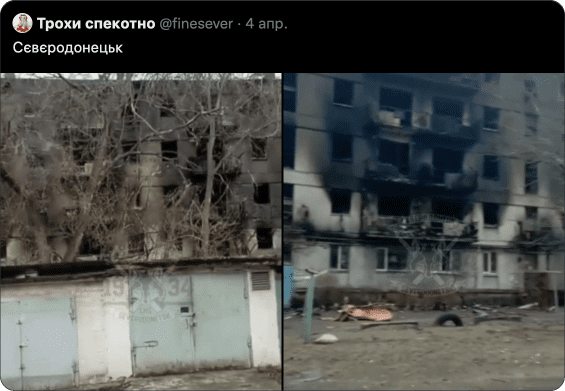 22:12 This is more or less quiet, but Ukrainian night. The shelling took place today, there are damages, people continue to leave, and the military continues to defend. In general, everything is as usual, nothing interesting. We are standing! And we are waiting…
23:22 Well, so far I haven't seen anything from the "good Russians", which could be called a strong act worthy of respect. Rotten rallies during which they watch children and old people being handcuffed? Inscriptions on the walls? Quarrels in the comments? Pffff…
Maybe they are good ones, but indifferent at the same time. It's a fact…
5.04
7:32 The morning in Severodonetsk has begun. Thank God, not with the massive shelling. The enemy hit the town several times. And this is good news for today. There is no gas in the whole town, the rest of the benefits of civilization depend on the area – the newer the district, the worse.
So for now, we are standing strong)
15:02 It's relatively quiet, the cloud from Rubizhne did not seem to reach us. Better it never flew here at all; I'm tired of this already. Several hundred more Severodonetsk residents were evacuated from the town, which again became a front line. Such news for today…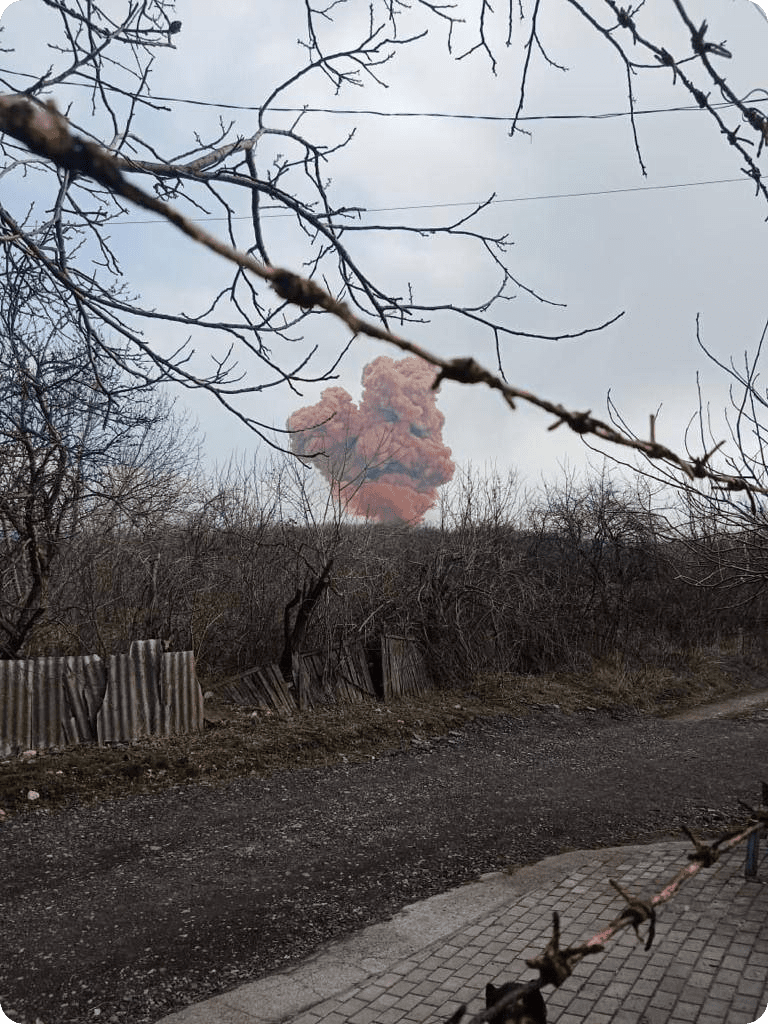 20:41 It seems that we are witnessing the decline of the UN and with it other inactive international organizations. I never liked these pathetic offices, which decided that they were the smartest and had the right to command us. In general, one of them ruled here for which it received my sincere hatred)))
21:31 I think there will be a separate place in paradise for Severodonetsk emergency workers, who somehow miraculously manage to fix something in such conditions. Here, today the gas pipeline was repaired to the detriment of Russcists! Now you can eat normally, without making barbecues))))
21:52 Russophobia is the key to mental health)))
6.04
7:33 Indestructible Severodonetsk enters a new day of struggle against the Russian herd of child killers and looters. It's gloomy, quiet, not hot here, the flag over the town is the flag of free people, ready for anything for the sake of this freedom! Russians won't understand that…
9:58 Wagner is a cool composer, but his "Ride of the Valkyries" is strongly associated with Nazism. Tchaikovsky, on the other hand, will now remind of the crimes of Russcism, and his "dying swan" will remind of the murdered Ukrainian women. And there is no one to blame, it is just such a culture…
11:08 A brutal blow to the town! Just unreal (((((
12:28 It's fine, it's calmed down. They hit at the evacuation gathering point; I don't know about the victims, the fires were not so strong, it could be worse. But today the most resilient and weak people decided to leave. I'm starting to think about this too…
12:54 With each such shelling, the number of evacuees increases, and that's good. I push everyone to evacuate as strongly as I can. Of course, I will leave as soon as I realize that the time has come and I have nothing to do here. And while there is something to do, I promise to be extremely careful)))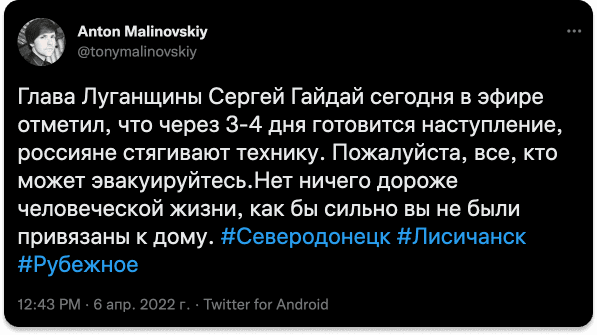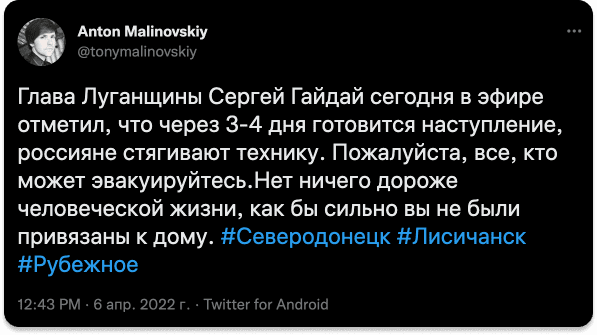 20:41 It seems that we are witnessing the decline of the UN, and with it other inactive international organizations. Never liked these pathetic
21:08 A quiet evening. No shelling. People are packing their bags, I moved and reconnected, and I'm expecting important guests tomorrow. We don't switch, we stand))))
21:43 Photo of the day, memorable for the fact that 8 years ago we held Maidan in our town. We were beaten then. Since then, every year we go out to remind that Severodonetsk is Ukraine, whether someone likes it or not)))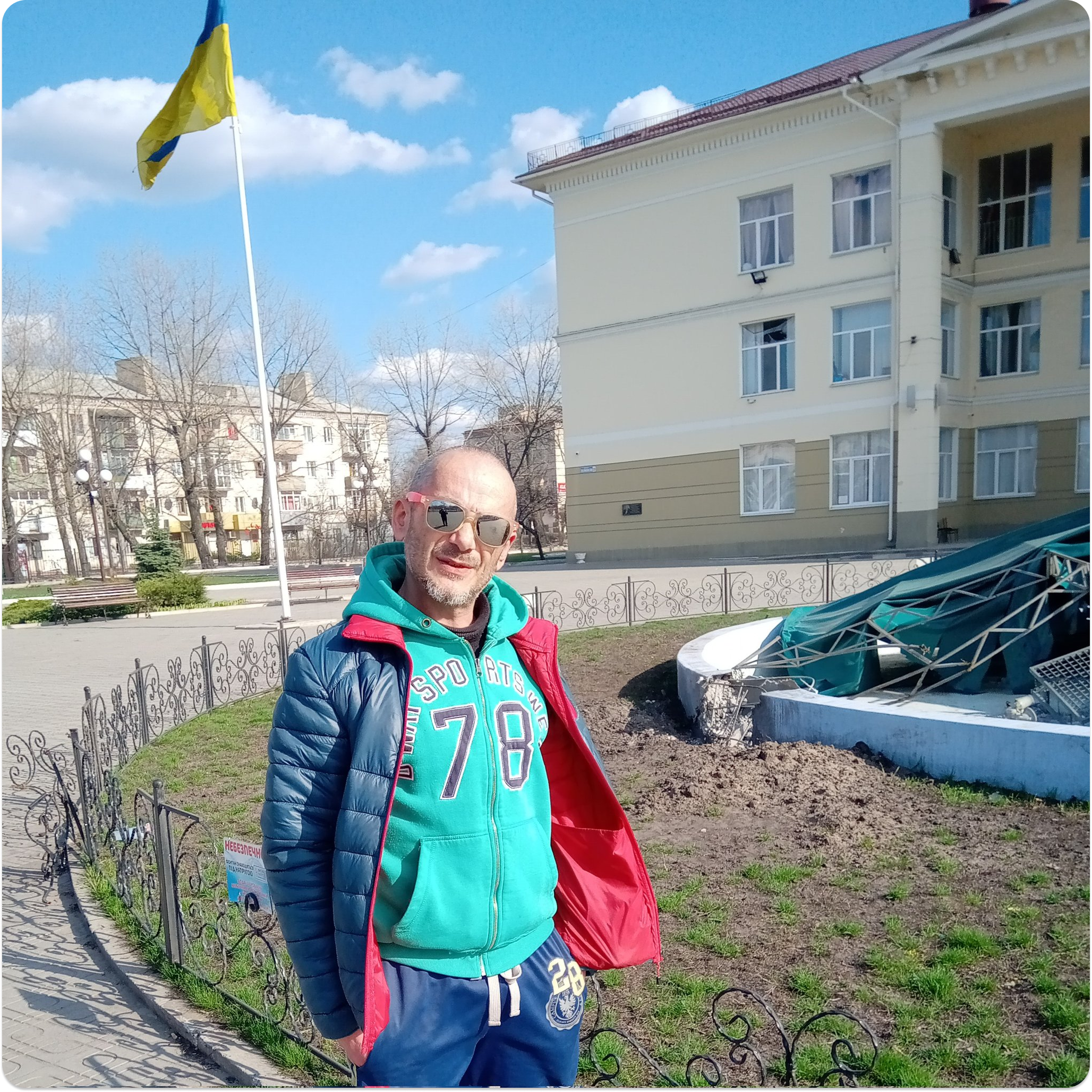 7.04
7:33 Unbroken Severodonetsk enters a new day of struggle
7:47 The night in Severodonetsk passed quietly, the morning is also good))) The gentle sun is shining, the birds are singing – Ukraine and spring are winning!
9:53 The war unites formal and informal structures, representatives of power, and anarchy. It is me and the head of the district administration Roman Vlasenko who send ardent Eastern Ukrainian greetings to everyone – we stand and will be standing strong!)))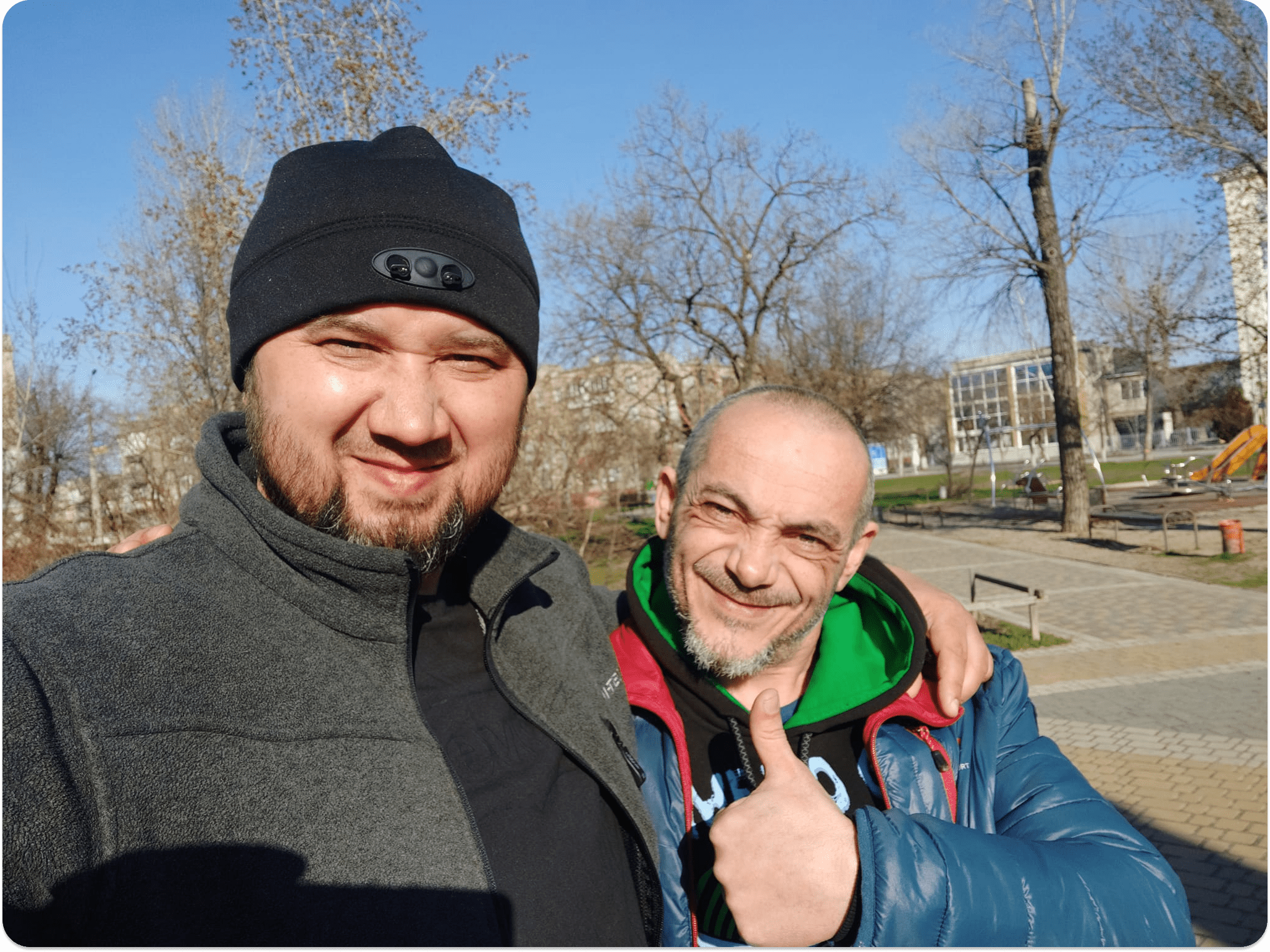 11:35 For those who say that I need to get out of here. If you know the town like me, and the town knows you, you know how to drive a car and you have enough determination to deliver humanitarian aid, then come and replace me. If no – then don't bother, I'll decide what to do by myself)))))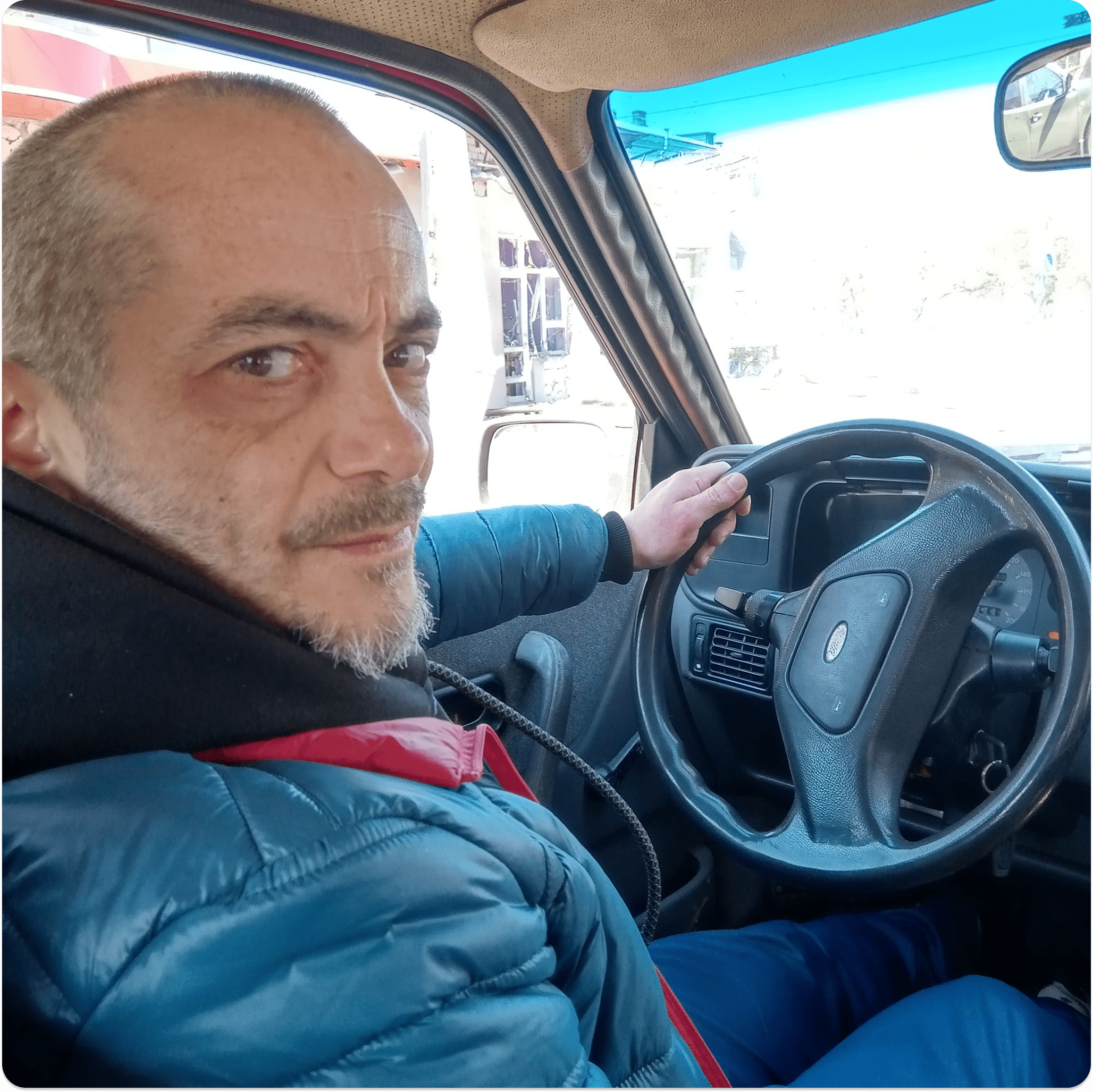 17:03 To the situation in the town. It's quiet and warm and there's a football mood. Today Russians didn't seem to bombard us much, the day was calm. We stand playing)))))
21:38 A quiet evening allowed us to discuss many issues, and moments and evaluate our possibilities. We took charge of a few more blocks in the old districts. But the main thing is that we thought about where to start the reconstruction, not the renewal after the war. I already know what I'm going to do first.
Peace to all!
23:34 5K subscribers here. Traditionally, I remind you what I did before all this. I collected architraves of the Luhansk region and studied history. Here are the samples…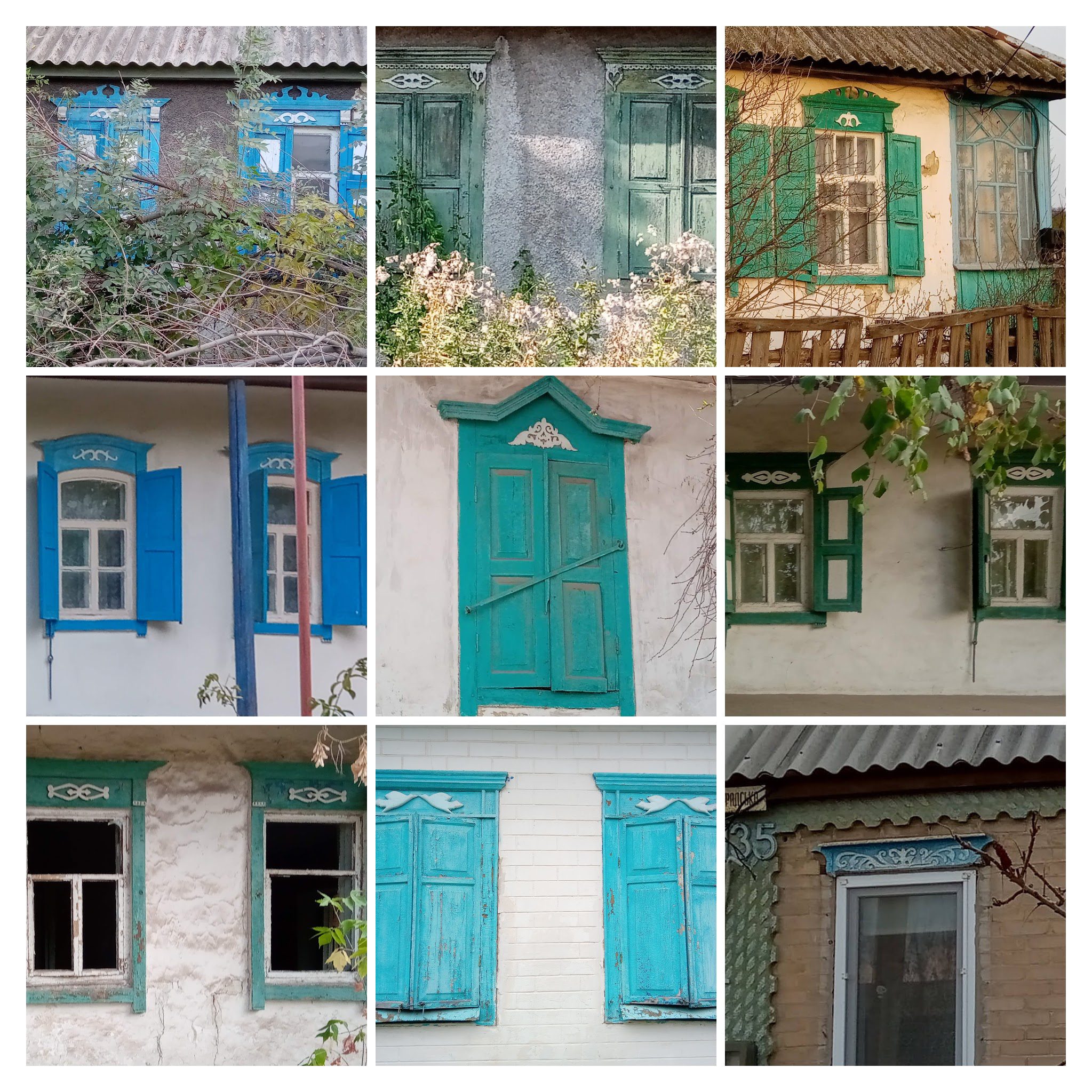 8.04
8:33 We don't sleep. Now it's quiet, it was loud at night, but it's ok. I tweeted this and now I will probably get some sleep. The feeling of tiredness intensified, so I need to reduce the pressure. There is little left – I need to hold on, and then I'll lie down to recover… probably for a month)))
12:04 We're dealing with f**king bastards!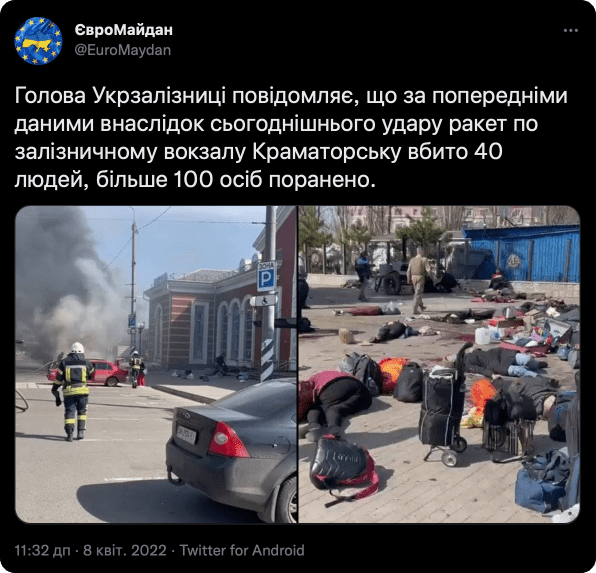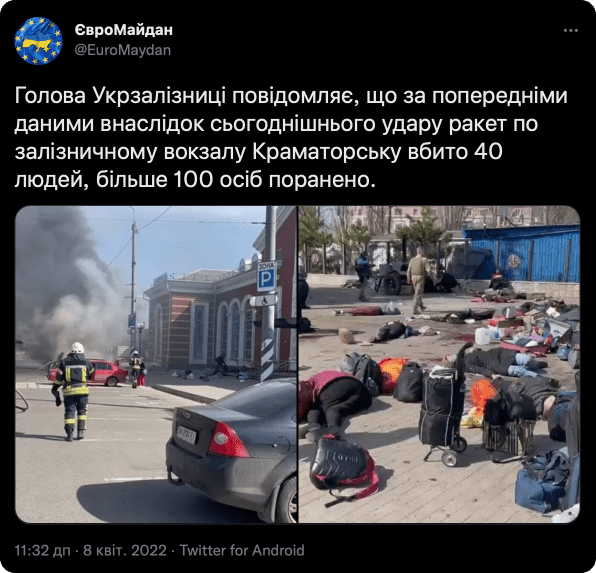 17:38 Before voluntarily rolling back to the Stone Age, in which they are comfortable, Russians want to drag us there, destroying our objects of civilization. But the fact is that, unlike them, we will not be in this state for long. We are clean, we will clean it all up, and we are not afraid to work…
23:07 I would like to say that the town is quiet, but I will not lie. Shells hit it periodically. The thunderstorm rumbles with good fresh rain. And we should sleep, blankets and pillows are waiting for us. Everything is fine, we stand strong)))